Google CEO Schmidt casually steps down, shocks tech world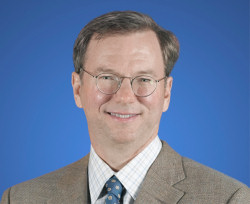 Google's Chief Executive officer Eric Schmidt will be stepping down from his position on April 4 of this year, and the site's co-founder Larry Page will once again assume the role of CEO.
Thursday afternoon, Schmidt announced that he will be moving to the role of Executive Chairman of Google's board of directors, where he will focus on "wherever [he] can add the greatest value." This might mean making deals, forging partnerships, broadening business relationships, or performing government outreach. Schmidt also says he will act as an advisor to Page and co-founder Sergey Brin.
"As Google has grown, managing the business has become more complicated," Schmidt said on Thursday. "So Larry, Sergey and I have been talking for a long time about how best to simplify our management structure and speed up decision making--and over the holidays we decided now was the right moment to make some changes to the way we are structured."
No longer will the company be run by the "triumvirate" of Schmidt as leader with Page and Brin as presidents. Schmidt said Page, who was the company's founding CEO, is now ready to take the reins again.
"Day to day adult supervision [is] no longer needed!" joked the erstwhile CEO <!external href="http://twitter.com/#!/ericschmidt/status/28196946376130560">on Twitter Thursday afternoon.