Samsung and ZTE shift the spotlight from Apple in Q4 mobile phone shipments

Samsung and ZTE were big winners selling mobile phones in 2010, based on new data released by IDC. Apple fell from fourth to fifth place. Smartphone shipments drove year-over-year growth to a new quarterly high -- 17.9 percent -- in fourth quarter. Unit shipments rose from 340.5 million units to 401.4 million. IDC measures shipments into the channel, which means unsold handsets are counted. Gartner should soon release actual sales data, for which the numbers will be lower.
For the year, manufacturers shipped 1.39 billion cell phones, up 18.5 percent from 1.17 billion units a year earlier. The United Nations estimates there are 5 billion cellular subscribers worldwide. IDC predicts that smartphones will be the major sales growth driver through 2014. This year, smartphone shipments are projected to rise by nearly 44 percent year over year.
"The mobile phone market has the wind behind its sails," Kevin Restivo, IDC senior research analyst, said in a statement. "Mobile phone users are eager to swap out older devices for ones that handle data as well as voice, which is driving growth and replacement cycles."
IDC spotlighted an ongoing trend that American bloggers and journalists obsessed with iPhone have ignored: Handsets coming out of China. ZTE moved up into fourth place in market share, largely from shipping lower-cost handsets into emerging markets. Meanwhile, grey market smartphones -- many of them running Android -- are gaining sales momentum in Asia. These grey market devices often imitate better-selling handsets like iPhone while offering new features or capabilities, such as dual-SIM slots.
By the way, ZTE pushed Apple into fifth place, and the maker of iPhone risks dropping out of the Top 5 altogether. "Change-up among the number four and five vendors could be a regular occurrence this year," added Ramon Llamas, IDC senior research analyst, said in a statement. "Motorola, Research In Motion, and Sony Ericsson, all vendors with a tight focus on the fast-growing smartphone market who had ranked among the top five worldwide vendors during 2010 are well within striking distance to move back into the top five list."
The data also reveals that contrary to a string of Nokia epitaphs from analysts, bloggers and journalists, the Finnish phone maker isn't dead yet. While Nokia handset shipments declined by 2.4 percent year over year during fourth quarter, to 123.7 million units, smartphone shipments rose by 38 percent. However, for the year, Nokia market share dropped to 32.6 percent from 36.9 percent year over year. Still, Nokia shipped, 453 million handsets, or more than the next three vendors combined among the Top 5.
Samsung topped 80 million quarterly shipments for the first time, buoyed in part by its hugely successful Galaxy S line. Samsung is having success in emerging markets as well as mature ones. By comparison, iPhone sold particularly well in mature markets, such as Europe and North America.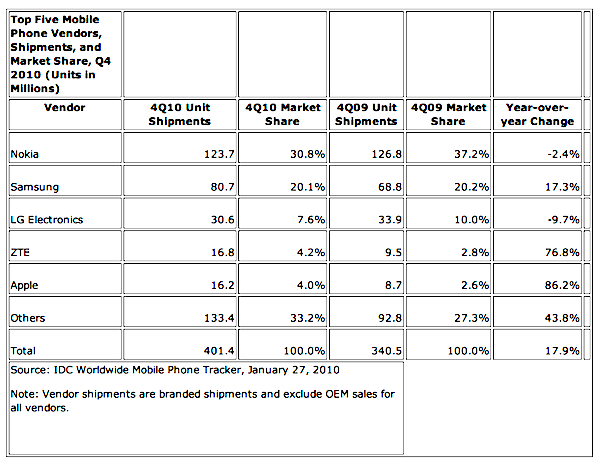 Regionally, South Korea emerged as the big market for Asia-Pacific, accounting for about two-thirds of Q4 phone shipments. In Western Europe, smartphones pushed down feature phones, which declined at their briskest pace ever. Among smartphones, Apple iPhone 4, HTC Desire, Nokia N8, Research in Motion Blackberry 852S and Samsung Galaxy S were the big sellers (presented alphabetically by carrier not by shipments).
In Central Europe, Middle East and Africa, quarterly shipments topped 70 million units -- a new high -- led by the aforementioned Chinese branded and unbranded handsets. In North America and Latin America, smartphones continued to drive shipment volumes. ZTE pushed hard into the latter region.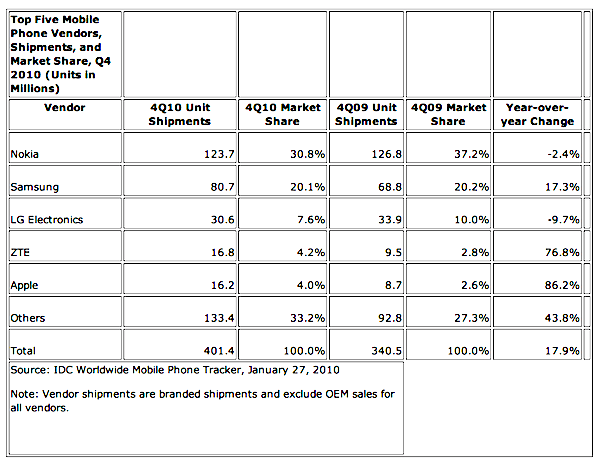 Again, I'd like to point out the American ethnocentric -- and quite honestly Apple-biased -- tendencies of bloggers and journalists here. The IDC numbers aren't being reported as widely today as previous quarterly shipments. Perhaps because the numbers aren't exceptional for Apple. The few reports I've seen focus more on Apple falling to fifth place than anything else, missing the broader and more important global trends.