Apple's server biz relegated to 'prosumer' status with Xserve's end

Today is the last day for Xserve, Apple's nine-year old line of rackmount servers designed for enterprise use.
As the company announced last November, no orders for the server hardware will be accepted beyond January 31.
While there is a community of server admins who use Mac server hardware, the discontinuation of Xserve has not been met with any wails of anguish from the IT community.
After Xserve is completely liquidated, Apple will only sell specially configured versions of its Mac Mini and Mac Pro as servers. This means the sole remaining part of Apple's server business is OS X Snow Leopard Server, which is itself, not that different from client versions of Snow Leopard.
What's left of the Mac server business is almost a "prosumer" category, that is, where consumer hardware can be tinkered with to create something that could work in professional settings, as long as they're not too demanding. Naturally, companies dealing with alternative Mac server products are popping up today to remind the world that there are options for the Mac Minis that Apple called it's "most popular line of servers" back in November.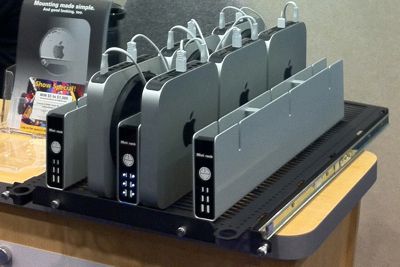 H-Squared recently debuted its Mini-rack for mounting up to 18 Mac minis in a standard rack enclosure. The Washington-based company has not yet announced a price for the rack, but will provide further details in February when it opens up for pre-orders.
For virtualization in a setup like the one shown above, there's really only one choice: Parallels Server for Mac 4.0 the only hypervisor-based virtualization software compatible with Snow Leopard Server. Parallels, one of Apple's consistently strong software partners, also offers a "bare metal" edition of Parallels Server for Mac for installation directly on bare Apple hardware.
The requirements for the virtualization platform aren't steep, either; it can be installed on any Intel-based Mac with VT-x support and a 1.5 GHz processor or higher. 4GB of RAM is recommended, but only 2GB is required, and 30 GB of disk space for each virtual machine is needed. Apple's default Mac Mini with Snow Leopard Server configuration is more than adequate to run a couple of 64-bit virtual machines. It has a 2.66 GHz Core 2 Duo processor, 4GB of RAM with support for up to 8GB, and two 500GB 7200RPM HDDs are built in.