Canalys: Android tops Symbian in smartphone shipments -- twice as many units as iPhone

Android's ascendency to smartphone supremacy hit a new high in fourth quarter 2010, according to research firm Canalys. Global Android smartphone shipments topped Nokia Symbian-based handsets -- 32.9 million to 31 million, respectively -- or twice iPhone (16.2 million). By another accounting, including OMS and Tapas platforms, Google ranked higher still: 33.3 million units.
Canalys' shipment data means Google is activating more than the previously disclosed 300,000 Android handsets per day. The number exceeds 350,000. During Q4, just two manufacturers, HTC and Samsung, accounted for 45 percent of "Google OS-based handset shipments," which includes OMS and Tapas.
Manufacturers shipped 101.2 million smartphones in Q4, up 89 percent year over year. Apple shipments grew slightly faster than the overall market, 89.5 percent. By comparison, Android shipments grew by more than 600 percent. For all 2010, manufacturers shipped about 300 million smartphones, up 80 percent year over year.
The year "2010 has been a fantastic year for the smartphone market," Chris Jones, Canalys principal analyst, said in a statement. "But vendors cannot afford to be complacent; 2011 is set to be a highly competitive year with vendors looking to use new technology, such as dual-core processors, NFC and 3D displays, to differentiate their products and maintain value."
Regionally, Europe, Middle East and Asia were the strongest markets for smartphones -- 38.8 million units, for a growth rate of 90 percent. While Nokia led EMEA, it ceded market leadership in Latin America to Research in Motion, which shipped about 1 million more units partly based on the popularity of BlackBerry Curve and other mid-range smartphones. Among Asian countries, South Korea smartphone shipments soared to 3.4 million units, up from 700,000 a year earlier. Smartphone shipments to China grew 134 percent year over year. Nokia's market share in the country plummeted -- to 56 percent from 76 percent a year earlier, despite 70 percent growth in unit shipments.
In the United States, smartphone shipments rose 64 percent year over year. It is the largest single country market, with unit shipments more than twice China. During fourth quarter, RIM retook first place from Apple. HTC ranked third, a position held now for three consecutive quarters. Canalys credited HTC's continued growth to Android and Windows Phone 7 handsets. By the way, fifth-ranked Microsoft bled market share in Q4, with growth falling by 20 percent, globally. Microsoft's US share fell from 7 percent to 5 percent year over year.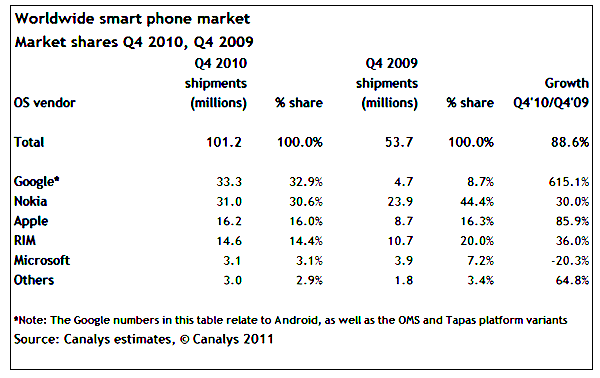 "Android was by far the largest smartphone platform in the US market in Q4 2010, with shipments of 12.1 million units -- nearly three times those of RIM's BlackBerry devices," Tim Shepherd, Canalys analyst, said in a statement. But changes are afoot.
"The US landscape will shift dramatically this coming year, as a result of the Verizon-Apple agreement," Shepherd said. "Verizon will move its focus away from the Droid range, but the overall market impact will mean less carrier-exclusive deals, while increasing the AT&T opportunity for Android vendors, such as HTC, Motorola and Samsung."
Existing Verizon customers can begin placing iPhone 4 orders on February 3. The smartphone officially launches a week later. Canalys' position on the Verizon iPhone's impact in the United States doesn't bode ill for Android. Earlier this month, the analyst firm said that Android shipments would grow twice the rate of competitors, largely unaffected by Apple making iPhone available through a second US carrier.