Splashtop Remote Desktop for iPad offers basic control of your PC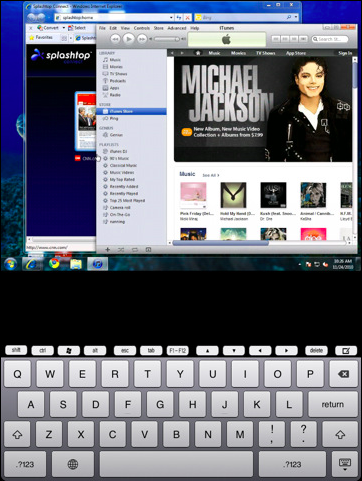 Last week, we looked at LogMeIn Ignition, just one of an increasing number of remote access tools available for iOS. Another remote access app that has received a great deal of attention recently is Splashtop Remote Desktop for iPad; we thought we would take a look at the app to see how the two compare. Just as with LogMeIn Ignition, Splashtop Remote Desktop for iPad can be used to control your PC or Mac from your iPad once the necessary desktop software has been installed.
From a functionality point of view, there is little difference between the two apps. Configuration is kept to a minimum thanks to the fact that computers that are on the same network as an iPad running Splashtop Remote Desktop are automatically detected. Providing the desktop software is installed, you need simply enter the password that was configured during the initial setup and a connection can be immediately established.
The desktop software can be configured so that sound from your PC or Mac is redirected to your iPad and muted locally, which is a great option if you are using your remote session to watch movies or play games on your iPad and don't want to have to worry about ensuring you have muted or turned off your computer speakers. The option to autorun the client software means that your computer is always available, although a lack of support for Wake On LAN means that putting your computer to sleep is not an option.
Splashtop Remote Desktop for iPad's support for iPad gestures is impressive and very intuitive -- tap to click, tap and hold to right click, tap and drag to drag and drop, scroll with two fingers to use the scroll wheel, etc. A button is always available at the bottom of your iPad screen to call up the on-screen keyboard, and this includes a number of extra keys in addition to the usual selection such as Esc, Tab and Ctrl so you can perform a variety of keyboard shortcuts.
While there are no options to control the quality of graphics, performance is not really an issue. The app can be most easily used over a wireless network connection, but 3G connectivity is also possible with a little extra tinkering. There is no denying that Splashtop Remote Desktop for iPad boasts fewer features and options than LogMeIn Ignition, but this certainly does not mean that the app should be overlooked. For simple, no nonsense remote computer access at and incredibly low price, there is nothing to lose from taking this for a test drive.
There is also an iPhone version of the app available, which provides the same set of features but with an interface designed for the smaller screen. Unlike the iPad edition, there is no free version of the iPhone app, but as this limits sessions to a mere five minutes, this is not necessarily a bad thing. But while there is not a free version of the app available, there is no arguing with the price; at $1.99, Splashtop Remote Desktop for iPhone is an absolute steal.
Whether you are looking for a serious remote access tool that will enable you to access your home office computer from the comfort of your bed or sofa, or you would like to use the remote access feature to stream content to your iPad that you would not otherwise be able to watch, Splashtop Remote Desktop for iPad represents outstanding value for money. There's also a free version available, which will allow a remote connection for up to 5 minutes in one single session.
Verdict: A very reasonably priced remote access app that requires virtually not setup while retaining more than enough features to enable you to get the job done.
We Like: Great price, very easy to set up, re-routing of audio is impressive, good performance, free version available.
We Don't Like: 3G setup is a little tricky, few security or quality options, no support for Wake On LAN.
Manufacturer: Splashtop
MSRP: $1.99
Platforms: iPhone/iPad
Requirements: iPhone/iPad