my6sense launches Chrome extension to filter crappy tweets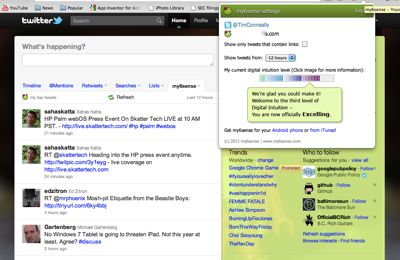 Israel-based software maker my6sense has branched out from its <!article id="1283874272">mobile app roots and launched a Chrome browser extension for Twitter on Wednesday. Like the my6sense app for iOS and Android, the Chrome browser extension strives to reduce the spam and irrelevant content for Twitter users who find themselves following just a bit too many people.
How many people can you follow on Twitter and not lose information? <!external href="http://www.quora.com/Can-you-follow-too-many-people-on-Twitter?q=how+many+people+follow">It's been a subject of discussion for years, which prompted Twitter to launch list-based filtering <!external href="http://blog.twitter.com/2009/09/soon-to-launch-lists.html">back in 2009. Indeed, there are many third-party applications to help users organize and filter the potential Twitter overload.
my6sense decides what is most relevant to you based upon all your prior behavior on Twitter (links you've clicked on, tweets you've favorited or retweeted, and your commonly-used keywords.) What's more, it deeply scans links for keywords and relevant information as well, so even if someone posts a URL-shortened link with no related text, it will look for relevant information. Naturally, not everything will be scannable by the extension, so it's not perfect.
The new extension is available freely to all Google Chrome and ChromeOS users, and can be obtained at <!external href="http://www.my6sense.com/twitter">my6sense.com/twitter.