Norton 360 v5.0 launches with free web app-desktop gadget and Cybercrime Index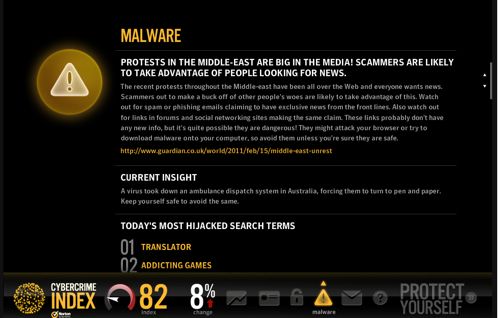 The weakest link in any security strategy is human. No matter how good the technology, nothing creates risk like ignorance and naiveté. When Symantec released its Norton 2011 products <!article id="1283920312">back in September, the company spoke of "engendering goodwill" among potential customers with free tools to educate and protect their vulnerable systems. Today, concurrent with the release of Norton 360 version 5, the company made available yet another free tool to keep users aware of the ever-changing daily threat landscape.
The Norton Cybercrime Index, a free service, gives a daily snapshot of the most dangerous websites and the most hijacked search terms, as well as top scams, identity theft ploys and spam. The daily data from the Cybercrime Index can be viewed in <!external href="http://us.norton.com/?cci=on&s_tnt=22618:0:0">a Web portal, on a mobile site, or as a <!external href="http://us.norton.com/theme.jsp?themeid=protect_yourself">free desktop gadget for Windows 7 and Vista. The main tool is a daily risk level meter similar to the Department of Homeland Security's <!external href="http://www.dhs.gov/files/programs/Copy_of_press_release_0046.shtm">threat advisory level.
Today, for example, is an 82 on the Norton Cybercime Index, which falls closer to the historic low of 57. The historic high, by comparison, is 179, which occurred in late December, because of a seasonal increase in identity theft and fraud.
The service includes a daily list the most malware-ridden sites, the top malware vectors, the most hijacked search terms (today's top is "translator,") the top spam categories, the volume of spam, categories most subject to fraud and ID theft, and a list of recent incidents of ID theft with detailed descriptions.
The daily risk level is determined by information from Symantec's Global Intelligence Network, which monitors more than 130 million servers and pulls data from ID Analytics and the Open Security Foundation's DataLossDB. All this data is then plugged into an algorithm that assigns values to the number of online threats every day.
Symantec benefits two ways from the new free tools. Education and information -- awareness -- are important malware-fighting tools. The company also can build goodwill, particularly among users who complain about system performance after installing Norton security software. Mike Williams, <!external href="http://www.softwarecrew.com/2011/02/norton-360-v5-0-released-rated-100-accurate-by-dennis-labs/">writing for Software Crew, calls out "a report released today by benchmark authors PassMark Software" that suggests the criticisms may be overblown. He writes:
The company pitted Norton 360 v5.0 against other big security suites from McAfee, Kaspersky, BitDefender and Trend Micro, testing them on a range of performance metrics: scan speeds, installation size, how they affected boot time, browsing performance, file management, application installations, network throughput, and much more. And Norton 350 v5.0 came top, thanks to high scores in most areas, including being around 19% faster at scanning than the nearest competitor.
Last month, <!external href=""http://www.dennistechnologylabs.com/reports/security/anti-malware/symantec/">Dennis Technology Labs tested the effectiveness of 11 top security suites, and Norton 360 v5.0 was the only one to achieve 100-percent accuracy, detecting all 50 threats.