Lenovo launches Sandy Bridge ThinkPads with 30 hour battery

Lenovo on Tuesday expanded its ThinkPad notebook line-up on the high end by rolling out six new Intel Sandy Bridge-enabled models with features like 30 hours of battery life, Dolby Home Theater v4, NVidia Optimus graphic switching, and Instant Resume, for more continuous wireless connectivity.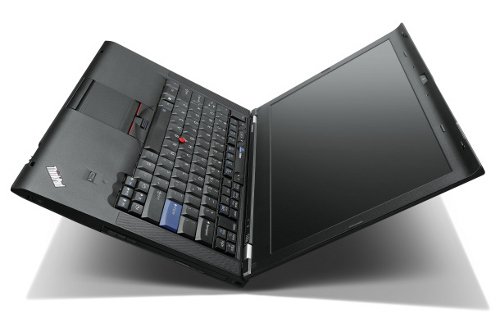 The new series of enhanced ThinkPads includes the top-of-the-line T420 and T520, the less pricey L420 and L520, the ultrathin T420s, and the W520, Lenovo's latest portable workstation for graphics-intensive applications like CAD, said Ross Compton, a Lenovo product manager, in an interview.
Instant Resume, a brand new feature rolled out on Tuesday, is designed to maintain a WiFi connection for up to 99 minutes when the laptop is in sleep mode.
The new feature is geared to users who want to stay connected to a company's wireless network when moving from an office to a conference room, for instance, without keeping their laptop covers open. "You can close the lid and put the laptop to sleep, and the drivers won't drop," Compton illustrated.
Instant Resume isn't meant to support 3G and 4G mobile wide area networks, though. "Instant Resume is WiFi-specific," according to the product manager.
While some features in the new ThinkPad family are available only on certain models, other new capabilities -- such as a dual-mode videoconferencing microphone and Lenovo Turbo Boost for faster PC performance -- are consistent across the new entries.
With a target market that includes corporate globetrotters who spend long hours on transcontinental plane trips, the 14-inch T420 offers both a standard 9-cell battery plus an optional snap-on 9-cell battery. By combining the two batteries, users can keep their laptops on for up to 30 hours without recharging, Compton contended.
On the other hand, the ultrathin 14-inch T420s, measuring just 0.83-inches thick, delivers 10 hours of battery life with the use of both a standard 6-cell and optional 6-cell slice battery. For its part, the 15-inch T520 provides a single battery only, with battery life of up to 15 hours.
Extending battery life through snap-on batteries isn't exactly a new strategy on ThinkPads. However, new models in the T and W series also get a battery boost through technologies like NVidia Optimus and Turbo Boost.
NVidia Optimus, Turbo Boost, and the dual-mode mic are all now trickling up to Lenovo's enterprise laptops from earlier introduction on Lenovo's lower-end models. So is Enhanced Experience (EE) 2.0, a technology for speeding bootup times.
NVidia Optimus is aimed at automatic switching between a built-in discrete graphics chipset -- for games and other apps requiring high performance graphics -- and an integrated graphics chipset, for better overall PC performance.
After initially offering Optimus only on its consumer notebooks, Lenovo first announced plans to add Optimus to its ThinkPad series in January of 2010, with the earlier T410s model. Other computer makers, including Dell, have also started out with Optimus on the consumer side.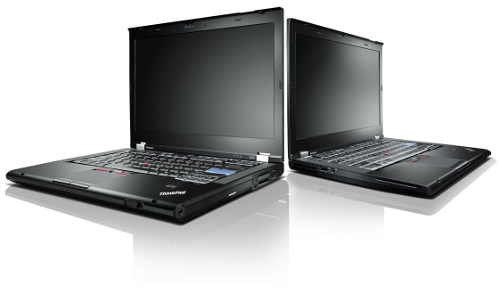 Turbo Boost, a technology first unveiled in January of 2011 for Lenovo's Edge 420s and E220s SMB laptops, is designed to reduce power to "non-essential hardware" during intensive apps such as videoconferencing and data analysis.
Lenovo's dual-mode microphones, also previously introduced for Edge, let users toggle between Conference Call mode, which picks up all voices and other ambient noises in the room, and Private Chat. The Private Chat mode instead focuses on a single voice, screening out potentially distracting sounds such as keyboard clacking.
As part of a self-acknowledged move by Lenovo toward laptops that pull double duty between business use and home entertainment, the new 420s ultra-slim model offers Dolby Home Theater v4, with virtualized surround sound and dialog enhancement technology.
In a similar vein, Lenovo's new 14.1-inch Edge E420s and 12.5-inch E220s laptops for SMBs come with Dolby Home Theater Audio, in addition to HDMI ports for TV connectivity.
Compton pointed to a study by the Consumer Electronics Association (CEA) showing that, even back in 2007, most PC users were turning to their computers for entertainment.
Like the Edge models, the business-class ThinkPads also offer security and management options such as encrypted hard drives with remote management support, Intel's Anti-Theft Technology, and integrated fingerprint readers.
Set for availability in March, the high-end ThinkPads will come with second generation Intel Core and Core vPro processors. Starting prices will range from $899 for the two L series models to $1,520 for the W520 portable workstation.