After a decade, It's time to say goodbye to Internet Explorer 6 (again)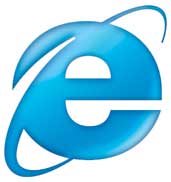 Internet Explorer 6 was released <!article id="996813882">a decade ago, and as of February 2011, 12% of the world accessing the Web still used it. On Friday, Microsoft officially stated that it wants that fragment of the population to just let it go already.
It did this by launching an official "death clock" for IE6 at <!external href="http://ie6countdown.com/">ie6countdown.com. The website is dedicated to watching IE6 usage drop down to less than 1% worldwide. Microsoft is not kidding around this time, saying it wants website developers to stop supporting Internet Explorer 6. The company is giving site developers the option to embed a banner in their site that lets users know they're using a browser that lacks support for modern web standards.
This movement is hopefully the last push Microsoft is going to have to make. Back in 2009, a similar attempt was made with <!article id="1249508632"> IE6 No More campaign to get developers to abandon the elderly browser. At the time, Microsoft and NetApplications estimated that the total population still using IE6 was around 27%.
So it's taken two years to reduce that number by more than half.
According to Microsoft and NetApplications' latest tallies, the countries with the largest percentage of IE6 users are China (34%), South Korea (24.8%), India (12.3%), Taiwan (10.7%), Saudi Arabia (10.7%), and Vietnam (10%). The only countries with less than one percent usage --a "passing grade"-- are Finland and Norway.
What was so great about IE6 anyway? Well, just about a decade ago, we wrote the following about Microsoft's browser update:
"IE6 will feature few drastic changes over its predecessor, most notably adding integrated media playback, automatic picture resizing and increased privacy with the adoption of P3P. The software giant has extended the browser's standards support, touting additional DOM and CSS functionality. IE6 will also support new specifications such as SMIL 2.0, used in interactive media presentations."
In reality, though, it just became so deeply entrenched in the enterprise sector, that companies were (and still are) hanging onto it to simply maintain the status quo of compatibility. If you see a banner contained within this article, you're one of the users Microsoft is targeting.
The chances are good that you won't be seeing it. According to our traffic analytics for Betanews.com, 5.6% of users browsing our site with Internet Explorer are doing so with v6. The total browser share for all versions of Internet Explorer is 26.4%, so that means only 1.475% of all of Betanews' traffic comes from IE6, while slightly more (2.8%) goes to FileForum.