Risk-averse enterprises get Google relief: They can delay and schedule Apps upgrades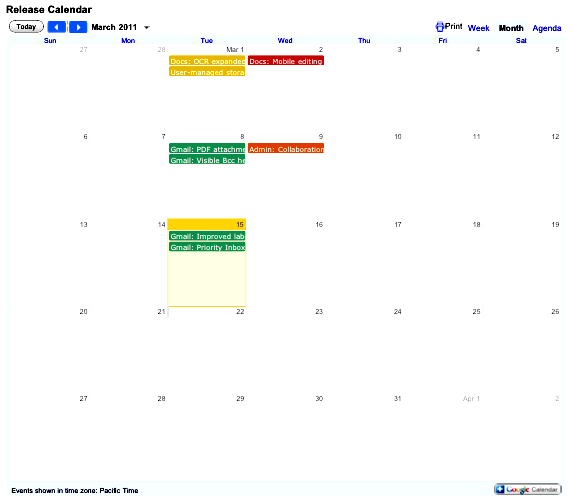 If there is one truism about IT organizations -- they're risk averse. Some are so against making changes they even take unnecessary risks to avoid others, like continuing to use Internet Explorer 6 even as Microsoft pushes hard to get businesses on a more modern, and safer, browser. Today, Google extended a concession to IT organizations by offering a second track for Google Apps that lets IT organizations delay and take seemingly more control over upgrades. The program smacks against one of cloud computing's benefits: Seamless and seemingly maintenance-free upgrades.
Google Apps' administrators can now choose "Rapid Release" or "Scheduled Release" options. The first track assures that users have the most up-to-date software. The second allows administrators to delay updates, which will be released to them on Tuesdays. Google provides a calendar of planned upgrades, seven days in advance of new features' release.
The advantages are as much psychological as they are logistical. IT organizations gain greater sense of control by receiving advance notice of updates and ability to decide when they're made available. Logistically, technology managers can take time evaluating upgrades before they're deployed.
The Rapid Release program replaces Google's earlier pre-release option, which encouraged IT organizations that opted in to move faster. "New features for Gmail, Contacts, Google Calendar, Google Docs and Google Sites will be following this new release process going forward," Anna Mongayt, a member of Google Enterprise Operations, writes in a blog post. "If your organization previously had 'pre-release features' enabled in the Google Apps control panel, then you will be placed on the Rapid Release track and continue to gain access to new features as soon as they're ready. Otherwise, your organization will be placed on the Scheduled Release track."
But the second track also introduces considerably more complexity to managing cloud applications, where one of the major benefits is simplicity. IT organizations using Scheduled Release will need to administer updates for five separate applications. By comparison, unless there is some application-compatibility problem, Rapid Release is more worry-free.
To my surprise, "For most Google Apps customers, we recommend the Scheduled Release track." I would have expected Google recommending more customers take advantage of Rapid Release. Rapid is probably better for small businesses that don't have large IT staffs, while Scheduled better suits enterprises that need to justify large IT staffs or organizational risk-averse behavior.
Here's how the process works, according to Google documentation:
1. Google releases a new Gmail feature simultaneously to the Google Apps Rapid Release track and to consumer users (free users) on a Wednesday. If you selected the Rapid Release track, your users can access the feature now. The Google Apps update alerts feed and the Release Calendar notify you about this feature on the day it's released.

2. On the next Tuesday, Google evaluates the feature and determines that it's ready for release to Google Apps customers. That day, Google announces the planned release in the Google Apps update feed and on the Release Calendar.

3. On the following Tuesday (one week later), Google releases the Gmail feature to the Scheduled Release track. If you selected this track, your users can now use the feature. The Google Apps update feed and the Release Calendar confirm the release.
More information is available at the Google Apps "What's New?" site.