Verizon Wireless' first LTE phone, HTC Thunderbolt strikes March 17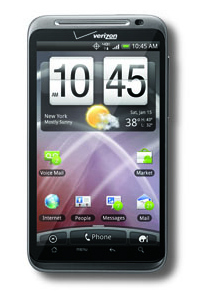 Tuesday morning, Verizon Wireless and HTC announced Thunderbolt, their first smartphone supporting the LTE 4G protocol, will be available this Thursday, March 17 for $249.99 with a new two-year contract.
Thunderbolt is powered by a 1GHz Qualcomm Snapdragon processor and Android 2.2. It has a 4.3" WVGA screen, an 8 Megapixel rear-facing camera, and 1.3 Megapixel forward-facing chat camera, 8GB of onboard storage and support for microSD cards up to 32 GB.
Naturally, the biggest draw of the Thunderbolt is its support for Verizon's high-speed LTE network, which has received lots of early praise for its impressive throughput. Today, Verizon Wireless said customers can expect download speeds of 5 to 12 Mbps and upload speeds of 2 to 5 Mbps when they're in 4G Mobile Broadband coverage area.
Verizon Wireless promises nationwide LTE coverage by 2013, but currently it is limited to 39 major metropolitan markets: (Phoenix, Oakland, San Francisco, San Jose, Los Angeles, San Diego, Denver, Washington DC, Jacksonville, Orlando, Tampa, West Palm Beach, Ft. Lauterdale, Miami, Athens, Atlanta, Chicago, West Lafayette, New Orleans, Baltimore, Boston, Metro Detroit, Twin Cities, St. Louis, Las Vegas, New York, Rochester, Charlotte, Cincinnati, Akron, Columbus, Cleveland, Oklahoma City, Pittsburgh, Philadelphia, Nashville, Dallas/Ft. Worth, Houston, San Antonio, Seattle/Tacoma.)
Verizon Wireless' unlimited 4G data plan costs $29.99 per month, and 8-device hotspot tethering adds $20 for 2GB per month. Mobile Hotspot tethering will be free for early adopters until May 15, at which point the cap and charge kick in.
<!image id=6138 center>
Though Thunderbolt is the first LTE smartphone for Verizon Wireless and HTC, it is not the first LTE smartphone in the United States, nor is it expected to be the only one from the major carrier. Samsung was the first to launch a commercial LTE smartphone with MetroPCS in late 2010, when it <!article id="1285081420">launched the Samsung Craft. The next LTE smartphone from VZW is expected to be the LG Revolution, which was announced alongside the Thunderbolt at CES 2011.