Hands On with T-Mobile's G2x: a potential big win for LG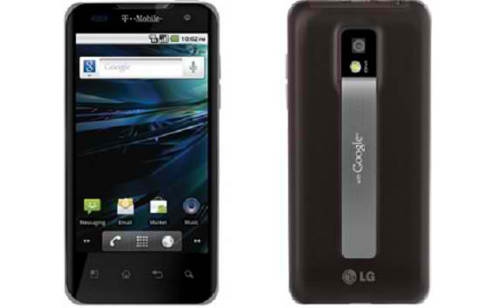 We got to take a look at some of the features of the LG G2x, T-Mobile's first dual-core smartphone, its fourteenth HSPA+ ("4G") device, and an important release for Korean electronics manufacturer LG.
The G2x is powered by a dual core 1GHz Nvidia Tegra 2 processor and is definitely being presented as a gamer-friendly device. In addition to being packed with a handful of games, the G2x (formerly known as the Optimus 2x) includes the <!external href="http://www.nvidia.com/object/tegra-zone.html">Tegra Zone app which is Nvidia's games-only app store which focuses on the titles that take greatest advantage of the processor's dual core capabilities.
The 4" touchscreen device also capitalizes on T-Mobile's higher speed HSPA+ network, which the company bills as 4G, despite the fact that it technically does not have that distinction from the governing bodies who establish these names. Sprint CEO Dan Hesse mocked companies like T-Mobile and AT&T yesterday for doing such things, referring to their technologies as "Faux-G."
Still, the increased connection speed afforded to the G2x makes it a strong choice for heavy data users and not just mobile gamers.
Further features of the device include an 8 Megapixel flash camera capable of 1080p video, a front-facing 1.3 Megapixel chat camera, an FM radio, mini HDMI output with HDMI mirroring, and 8 GB of onboard storage and support for microSD cards up to 32 GB in size.
While this is an important device for T-Mobile, continuing its "G" series of flagship Android phones, it may be far more important for LG to have secured such a prominent position in the carrier's catalog.
Though LG is one of the most prominent handset manufacturers in terms of market share, in the last year, it has lost considerable ground to principal competitors Samsung and Motorola due to its slower adoption of the Android operating system. The company closed out 2010 with <!article id="1278369313">fewer than 10 Android phones, and no prestigious carrier wins; while Motorola blanketed the market with <!article id="1286339852">dozens of Android devices, and Samsung created what was arguably the first <!article id="1269390426">Android luxury brand with its Galaxy S series.
If backed with appropriate marketing, and the AT&T acquisition doesn't create too many regulatory and publicity hurdles, the arrival of the G2x later this summer could help LG finally make a big splash in the U.S. Android market.