Android Market finally gets in-app billing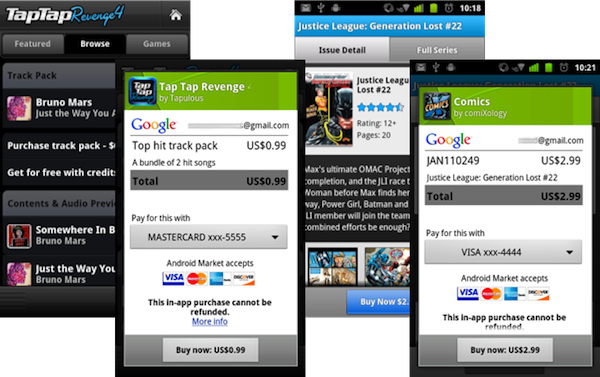 That didn't take long. On March 24th, Google launched in-app billing in test mode so that developers could test their mobile applications at the Android Market. This evening, Google announced that the service is live.
In-app billing is an important catch-up feature for Android Market. Developers can now collect additional revenue by offering customers option to purchase extras after the initial sale. "Several apps launching today are already using the service, including Tap Tap Revenge by Disney Mobile; Comics by ComiXology; Gun Bros, Deer Hunter Challenge HD, and WSOP3 by Glu Mobile; and Dungeon Defenders: FW Deluxe by Trendy Entertainment," Eric Chu writes at the Android Developers blog.
Apple started offering in-app purchasing through its App Store in summer 2009 and made the capability available to free apps in October of that year. Last month, Apple extended the capability, allowing publishers of digital content to offer subscriptions. Google countered with a seemingly more flexible subscription plan that offers more profit back to publishers. This month, Apple changed how in-app purchases work, in response to problems with people racking up huge in-app bills.
Developers follow the money, and they can now collect more from Android apps. Making money is one of the fundamental reasons platforms like Android or iOS succeed. No matter how good the platform, third parties will only support it if they benefit. The classic example is Apple versus Microsoft in the 1980s and 1990s.
Apple retained tight control over its operating system, while Microsoft licensed DOS and later Windows. Microsoft's approach allowed a huge ecosystem of hardware manufacturers, resellers and software developers to make money. Large businesses saved millions of dollars deploying PC hardware and software (instead of mainframes and terminals) and later generated revenue from new business processes and efficiencies. More third parties made more money supporting Microsoft's platform than Apple's. It's the fundamental reason why the Macintosh lost the PC wars in the 1980s and early 1990s.
Similarly, Apple's iOS platform benefits from a huge ecosystem of peripherals, cases and other add-ons -- all in addition to the 300,000 or so apps -- around which third-parties make boatloads of cash.
Successful platforms share five common traits:
There are good development tools and APIs for easily making good applications
There is at least one killer application people really want
There is breadth of useful applications
Third parties make lots of money
There is a robust ecosystem
There is a sixth attribute that follows the other five: Scale. Once there is enough third-party support, the platform and extended ecosystem rapidly scales. Developers create software, other third-parties provide supporting products and services and consumers and businesses massively buy into the platform. Once enough people are invested in the platform, either as adopters or supporters, they will be unlikely to switch to something else.
Apple and Google both would like their mobile platforms to be so successful. Perhaps both will. The market for cloud connected devices is still so volatile, no platform is certain to succeed yet. Every way that Android matches iOS, or visa versa, is important for advancing the platforms' appeal. In-app billing is one step along the way.