Doh, of course Microsoft should open lots more retail stores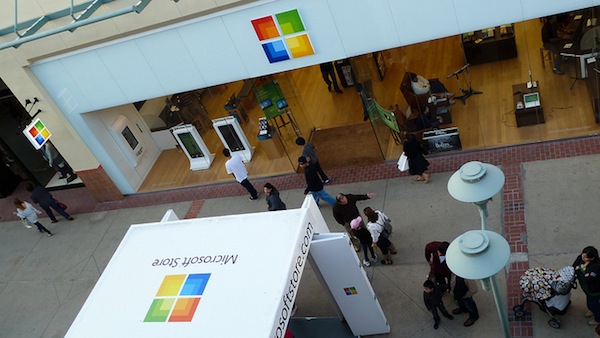 Matt Rosoff, a former analyst covering Microsoft and now working for Business Insider, has a startling and disturbing report today. Citing unnamed sources, Rosoff claims that Microsoft's leadership is divided about opening more retail stores.
Geez Louise, it's not rocket science. Open lots more stores, Microsoft. Actually, you can't open them fast enough.
Small problem: Microsoft's retail store openings are few -- eight to date and two more formally planned. Microsoft opened the first two stores in Arizona and California in October 2009. The pace since is disappointing. Rosoff claims that Microsoft CEO Steve Ballmer is hot for stores but cool to opening many more having "been convinced to hold back." Apparently profits are a reason. Sorry, Steve, but holding back is the wrong strategy.
It's About Branding and Marketing -- Not Profits
I was there a decade ago next month when Apple opened its first retail store at Tysons Corner Center in McLean, Va. Ahead of the store's opening, analysts, Mac enthusiasts and Apple dealers debated the branded retail shop strategy. At the time, the United States was gripped by recession and Gateway had started shuttering stores (later closing them all). From a purely profit objective, Apple Store didn't make much sense. But there was general consensus that Apple-controlled retail would promote the brand and sell the Mac lifestyle.
Branded Microsoft stores aren't about generating profits. Making money is merely a bonus. The goal should be selling a Microsoft lifestyle and engaging customers. Here in San Diego, Fashion Valley mall has Apple and Microsoft stores, separated by four shops and a walkway. As I observed in December 2010 post "Talking about Microsoft Store," the shops clearly appeal to different people living somewhat contrasting digital lifestyles. Here in San Diego, young, hip or chic defines Apple Store shoppers, while Microsoft Store draws families -- lots of them.
Apple Store provides a focal point for the Apple lifestyle, around digital activities like listening to music and watching, making or sharing videos. The iPad and iPhone add a mobile lifestyle component, extending from the others but more connected through the applications and the Web. Apple's lifestyle is dimensional, with different facets. As I explained in February, Apple's success today derives from four products or initiatives unleashed in 2001: iPod, iTunes, Mac OS X and Apple Store. Now there are more than 300 Apple stores worldwide.
In the 1990s, there was a clearly identifiable Windows lifestyle, but it lost definition coming into the new century. Today, Windows is more a utility, like the kitchen stove or refrigerator. There are no defining applications, outside businesses. That said, Microsoft marketing efforts supporting Bing, Internet Explorer, Windows Live, Windows Phone, Windows 7, Xbox and Xbox Live are clearly identifying a digital lifestyle. The "to the cloud" advertisements extend the lifestyle beyond the PC. Retail shops -- and lots of `em -- would give Microsoft place to better sell this lifestyle on terms it can control. If Apple can do it, so can Microsoft.
Similar Situation a Decade Apart
Common problems Microsoft in 2011 shares with Apple circa 2001:
1. Distribution: In 2001, Apple depended on major computer retailers and Mac dealers to sell its goods. But Windows PCs dwarfed Macs in most stores to near invisibility. In 2011, Microsoft relies on fewer chains, like Best Buy or Walmart; major computer retail partners -- Circuit City and CompUSA, among them -- are gone. TVs and consumer electronics dwarf Windows PCs in most stores.
2. Retail experience: In 2001, the Mac buying experience usually ended with a computer store employee recommending a Windows PC. Most employees either weren't trained to sell Macs or pushed what they knew -- Windows. In 2011, many electronics store employees don't know how to sell Windows in context of capabilities tied to game consoles, smartphones, TVs and other devices.
3. Digital lifestyle: In 2001, Apple wanted to position the Mac as a digital hub for photos, music, movies, the Web and other digital activities. Apple Store presented a place to showcase the Mac's capabilities -- something not happening in regular retail. In 2011, Microsoft wants to advance Windows as hub for three screens -- the phone, the PC and TV -- but retailers aren't effectively selling it.
4. Brand building: In 2001, Apple had a marginally resurgent brand. There was yet no iPad, iPhone or iPod, and Mac market share was but a few percent. Apple Store created permanent presence where people could see Apple's brand and experience the Mac lifestyle. In 2011, Microsoft Store establishes a permanent presence exposing masses of people to the brand and Microsoft lifestyle.
5. Customer service: In 2001, Mac dealers and PC retailers determined the extent of Apple customer service. The Apple Store Genius Bar reclaimed the customer experience, by providing a place where Mac customers could get free technical support and even product replacement. Satisfaction endears customers. In 2011, Microsoft has little to no control over customer satisfaction, as retailers or hardware manufacturers provide most support services. By providing in-store training and technical support, Microsoft Store increases customer satisfaction by solving problems and, perhaps more importantly, by helping people get the most value from their products.
Of Boutiques and Franchising
The future of technology retailing isn't Best Buy or Walmart, it's boutiques. In June 2010, I observed that "Apple and Microsoft stores are the future of technology retailing." Here in San Diego, Fashion Valley mall is a petri dish for assessing tech retail's future. Not just Apple and Microsoft, Sony also operates a company store. All three are in close proximity, and they're all boutiques.
Particularly as computing goes mobile, smaller shops will make more sense because they're familiar to people. Cellular stores operated by AT&T, Sprint, T-Mobile and Verizon are everywhere. Best Buy has downsized with mobile boutiques that also sell computers. The business model has long worked for Radio Shack, which is uniquely positioned to capitalize on the trend.
Microsoft faces problems of willingness, assuming Rosoff is right, and logistics. New stores take time to open. But there is one way to accelerate the process. In April 2010, I posed question: "Should Microsoft franchise its retail stores?" Hell, yes.
Franchising is highly congruous with Microsoft's long-loving channel ways. Rather than compete with retailers and resellers, Microsoft should make some of them part of the family. The company already has robust channel programs in place. Surely Microsoft could create from that foundation a franchise program faster than the time needed to build 20 or 30 new stores on its own. However, Microsoft should continue building its own stores even as franchisees open others.
So what do you think? Would you like a Microsoft Store in your mall? Please answer in comments.