Acer aims for Apple with the Iconia Tab tablet at $449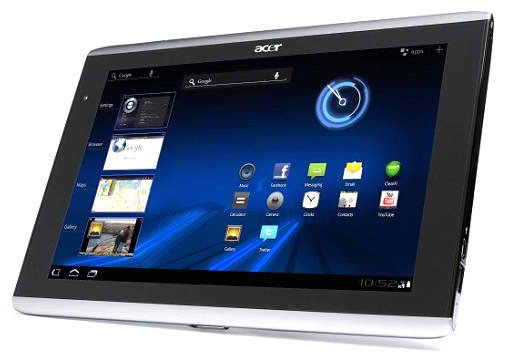 Aiming to take on the iPad where few competitors have -- on price -- Acer on Friday said that it would begin shipping its <!article id="1300992156">Iconia Tab tablet for $449 later this month. The device sports a 10.1-inch screen, a NVIDIA 1GHz dual-core processor, 16GB of storage and runs on <!article id="1296085886">Android 3.0 "Honeycomb."
The Iconia Tab's feature set will put it on par with Apple's top-selling tablet, and will be one of the few that sells at a lower price yet matches the iPad on features. Tablet manufacturers have so far struggled to produce devices that could viably compete with Apple's tablet, likely due to economies of scale.
Acer hopes to change that. Along with the above features, it will also include front and rear-facing cameras, 720p HD video on the device and 1080p out via HDMI. Like the iPad, the Iconia Tab includes a built in gyroscope, which can detect the motion of the tablet for use in gaming and other applications.
"This tablet absolutely delivers on the expectation that customers can be entertained, stay in touch with family, friends, colleagues and social networks, as well as keep up on the world around them in a way that is intuitive and fluid, and also incredibly enjoyable," Acer America marketing chief Sumit Agnihotry said in a statement.
While the first version of the Iconia Tab will be Wi-Fi only, Acer also plans to ship an LTE-enabled model later this year, as well as one based on the Windows 7 platform. Pricing and availability of those models was not announced.
Best Buy will be one of Acer's premier partners for the Iconia Tab and is already accepting pre-orders via its website, and will take orders in store beginning on April 14. The device is expected to launch on April 24, the company said.
Acer's news comes about a week after its former CEO Gianfranco Lanci <!article id="1301677073">abruptly resigned over disagreements on the company's future strategy. Press reports indicated that one of the points of contention was Acer's position in the burgeoning tablet sector.