Can you blame iPhone for this? Cisco is closing Flip Video camera business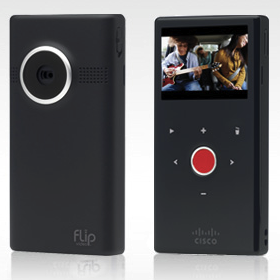 Somebody surely will blame iPhone in today's analysis, although the move reflects broader problems Cisco is looking to fix. Hey, the dot-com boom of the 1990s, when Cisco router sales soared, is long over.
"We are making key, targeted moves as we align operations in support of our network-centric platform strategy," Cisco CEO John Chambers said in a statement. "As we move forward, our consumer efforts will focus on how we help our enterprise and service provider customers optimize and expand their offerings for consumers, and help ensure the network's ability to deliver on those offerings."
As part of this restructuring, Cisco will close Flip, laying off 550 people; refocus its home networking business to better fit with its core networking business; and realign its TelePresence business. Cisco will take a $300 million charge as part of the restructuring.
Stephen Baker, NPD's vice president of industry analysis, expressed shock at Cisco's decision to shutter Flip. "It's hard to believe there wasn't a buyer out there for it considering its volumes and revenues," he told me this morning.
At U.S. retail, Flip had 22.5 percent portable video market share in 2010, as measured in units, down from 23.9 percent a year earlier. While unit volumes were flat year over year, they were up three times from 2008.
Cisco bought Flip in March 2009 in one of two major pushes into the consumer market. The other was the acquisition of Linksys.
"I questioned whether Flip was the right fit when they bought it, and the future looks a bit iffy. But they are closing based on past performance not future opportunity," Baker said. "This is a clear example of short-term, Wall Street-driven thinking that doesn't reflect the reality of the market."
Cisco has Wall Street to worry about. The networking company reported fiscal 2011 second quarter results in February. Net income fell 17.9 percent year over year, and earnings per share declined by 15.6 percent.
There is increasing overlap between business and consumer products, which made sense of Cisco acquiring Flip and aligning with video conferencing and supporting services. "If the future of IT is the consumerization of IT, then tell me how Cisco does long-term with no consumer presence," Baker demanded. I can't. The closure is simply shocking.
When Apple launched iPhone 4 last year, CEO Steve Jobs poked at Flip during his presentation. Apple's smartphone does 720p video capture with stereo audio. Less than a year later, Flip is done. I don't suggest that iPhone killed Flip, but I won't be surprised to see such reasoning put forth today, particularly among the Apple fan club of bloggers and journalists.
That said, surely the broader market for cameras and cameraphones with HD capabilities played a role,
"Cameraphones are likely an issue in the future," Baker said. "If Flip was struggling today then it was because of cameraphones." If.
It's not like Cisco greatly advanced Flip since acquiring it. Meanwhile, others innovated. For example, GoPro cameras also offer HD, they are smaller and they offer more flexibility. I bought one for my daughter last Christmas, so she could attach it to her long board or helmet. I never considered Flip.
Still, why should Cisco just give up? Why not sell as Baker suggested? Or, better -- take the Flip technology mobile, starting with a Flip video conference solution for smartphones and future stand-alone video cameras. Cisco is mostly there today with other video products. Instead, the FlipShare service will go away with the camera.
Do you use Flip? Are you sorry to see this pioneer of portable video going away? Please answer in comments.