Microsoft unveils 'Mango' -- next major Windows Phone version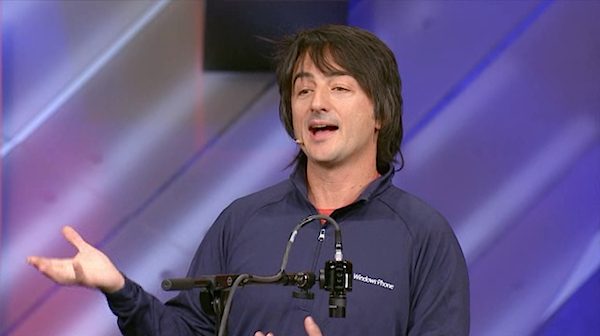 Microsoft's MIX11 Day 2 is perhaps more important than the first. Today, Joe Belfiore took the keynote stage to discuss the next Windows Phone update, codename "Mango," which will be "available to all current users of Windows Phone" and on new handsets, he said. Developer tools are coming next month.
Microsoft plans to release Mango in autumn, adding support for 16 additional languages. The number of countries where Windows Phone apps can be submitted will increase from 30 to 36. Applications will be available to download or buy in more countries -- 25 up from 16.
Belfiore also highlighted changes specific to developers that "get more value out of your apps." User-specific enhancements will be announced later.
Among the new features is what Belfiore called a "jump list for apps," essentially the ability to use typographic keys to scan for documents. The feature could be a boon for end users with lots of apps and ensuring that developers' applications don't get lost in the mix. Search is improved, and Microsoft presents more information about apps in the Windows Phone Marketplace. Another new feature attaches apps as "Extras" to searches. Belfiore used example of Binging movie "Source Code," then watching the movie trailer from the IMDB app presented in "Extras."
<!image id=6390 center>
Windows Phone codename "Mango" running Amazon app
Microsoft also will give developers more access to phones' sensors and to ringtones. Microsoft Research has provided a combined motion and compass sensor that developers can write to. Belfiore demoed a capability (previously previewed) -- scanning the room with the phone's camera and seeing where different Twitter users are on the screen. He also demoed making Ballmer's famous "Developers! Developers! Developers!" rant a ringtone.
Microsoft will improve multitasking, which suspends an app when the user switches to another. He demoed Spotify background audio when moving to other apps. Another new capability is background "live agents" that developers write into their code; Windows Phone schedules them in a way to protect battery life. Belfiore briefly demoed Angry Birds during the multitasking demo. The game will be available for Windows Phone on May 25th and will take advantage of new multitasking capabilities when available.
Developers also will have access to live tiles. Belfiore demoed a barcode scanning tile that launched Amazon's shopping app. The new features consistently stick to a theme touted in Windows Phone marketing -- about getting people off the handset and back to living. "We're the glance-and-go platform," Belfiore said.
<!image id=6391 center>
Internet Explorer 9 will add HTML5 capabilities to Windows Phone
Perhaps most exciting is the browser. "The phone has IE9 built in," Belfiore said. "It's the same exact code" as the PC. That means HTML5 capabilities, including hardware acceleration, on handsets running Mango. He demoed HTML5 capabilities several ways: background audio coming from the browser; a speed test comparing iPhone 4, Windows Phone and Nexus S; and navigation of Boston Globe's impressive HTML5 website.
Why Today's Pitch Matters
Microsoft CEO Steve Ballmer officially announced what was then called Windows Phone 7 Series in February 2010. The first Windows Phone handsets shipped about 10 months later. I was then and remain to be now impressed with Microsoft's clever advertising, which has a strong lifestyle message: Windows Phone will let you reclaim your life, rather than be owned by it.
In February 2011, Microsoft cut a lucrative distribution deal that will make Nokia swap Symbian for Windows Phone as primary operating system. The first Nokia-branded Windows Phone handsets are expected to ship next year. The deal dramatically changed analysts expectations about Windows Phone's future. In October last year, they put Windows Phone as No. 6 behind -- get this -- Meego in 2014. In recent weeks, Gartner and IDC revised forecasts, putting Windows Phone 7 second to projected market-leading Android in 2015 for smartphone operating systems.
<!image id=6392 center>
HTML5 'read test'; IE9 wins
"We were pretty excited to see our strategy validated in that way," Belfiore said today.
But getting to No. 2 will require more than swapping Symbian for Windows Mobile. Microsoft needs developer support, which is one reason today's keynote is so important. Currently there are about 13,000 apps at Microsoft's mobile marketplace compared to more than 300,000 at Apple's store.
I found Belfiore's pitch to be compelling. Microsoft is taking a measured approach to improving its mobile platform. It's risky short term but could pay off long term. Still, Apple has a huge carrot to offer developers. There is little fragmentation in its platform because Apple, and not carriers, control updates.
<!image id=6393 center>
Microsoft's updated mobile app store running on Mango
Belfiore preempted his keynote to discuss updates, by addressing the first Windows Phone update, which Microsoft released in late February but pulled almost immediately. There were installation problems, among others, on some phones. Belfiore said there was no one problem but several, largely related to Microsoft testing on phones for which there were changes, mainly to firmware, later on.
While Microsoft servers dispatch updates, carriers choose when. Belfiore defended the practice of letting phone operators test updates and choose when to make them available. "From our point of view, that's quite reasonable." Microsoft releases the update on X date for unlocked phones. He said that major carriers treat updates, even minor ones, like the release of a new phone. Testing is rigorous, even if it causes end users frustration when seeing someone else with an update they can't get.
"We think these things will go faster in the future," Belfiore said.