Europe outspends U.S. and Japan on consumer electronics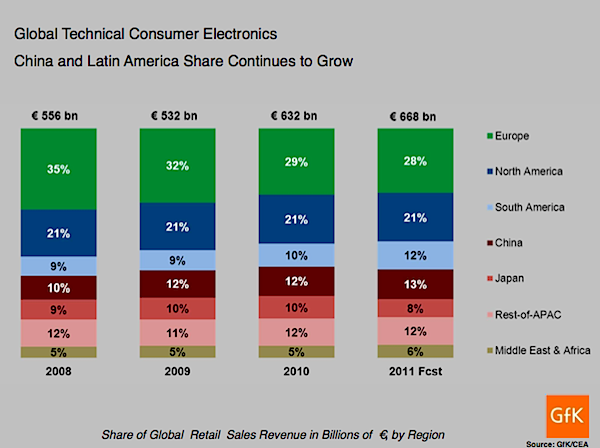 ALICANTE, Spain -- For as long as I've been a tech journalist -- and it's been a long time -- I always thought of the United States as the single biggest market for consumer electronics, followed by Japan with China rapidly rising in the ranks.
My oh my, have I been wrong. In fact, the biggest market is Europe. Last year, it accounted for 29 percent of the $913 billion worldwide market for "technical consumer products," a designation that also allows for counting appliances that are becoming smart and connected, too. Turns out we Yanks finished second, accounting for 21 percent of all goods sold. Third place went to China, with 12 percent share.
Those were but a few of the facts and figures I'm bringing back from Spain, where I was among 300 journalists from 47 countries as invited guests of the giant international consumer products trade show called IFA, held in Berlin every September. IFA, its organizers contend, is as big as the gigantic Consumer Electronics Show in Las Vegas.
The purpose of our visit to this Mediterranean resort town was for a preview of the upcoming show -- a series of briefings by major companies and some of Europe's leading market researchers. The market share data putting Europe atop the list came courtesy of Jurgen Boyny, an analyst with German market research firm GfK. Among the other insights Boyny and other people shared:
What recession? Sales of consumer electronics and appliances grew 19 percent last year. The surge followed on the heels of the 2009 recession when sales shrunk 5 percent; year-over-year comparisons were favorable for growth. Still Boyny declared that 2010 was unexpectedly robust.
Happier days here again. Boyny said the market won't grow as much in 2011 as it did in 2010. But the 8 percent growth in sales GfK forecasts is still pretty good.
Year of the tablet. Boyny declared that 2011 will be the year that tablets emerge as a complete category, right up there with computers, printers and cameras. This year, tablets will account for 3 percent of all consumer electronics sales. While that's small, still, for sure, remember the first iPad was introduced just a little more than only one year ago.
<!image id=6448 center>
Japan shrinks. Sales of technical consumer products will decline 18 percent in Japan this year, GfK predicts. Yes, the devastating earthquake and tsunami colored the forecast, they're not the sole reason for Japan's plunge. Boyny says that sales in Japan surged in 2010 thanks to an energy-efficiency campaign that prompted many Japanese to upgrade to eco-friendlier models.
Dualing electrical grids. The Japanese may have to weather rolling blackouts but not for the reasons you think. Yes, the quake-caused nuclear plant catastrophe is one of them. But Paul Gray, an analyst with markert researcher DisplaySearch, noted that the nation actually has two electrical grids -- one for the eastern side of the country, the other for the west. They are incompatible with one another. So Japan can't readily move electricity around its grid.
Component shortages? Gray and Boyny both don't believe that Japan's natural disasters will cause much interruption among electronics manufacturers. Most displays are made outside of the hardest hit parts of the island nation. Gray has spotted disruptions in some of the exotic chemicals produced by Japan that go into displays. But he anticipates the supply chain will bounce back quickly.
Disclosure: IFA paid travel expenses and accommodations for the event it sponsored and Patrick Houston attended.
<!image id=6437 left>Patrick Houston is the editorial director of NetShelter Technology Media, in which Betanews is a partner. He is a long-time tech journalist who, prior to NetShelter, served as the editor in chief of CNET.com, and the general manager for Yahoo's tech channel.