PlayStation Network still down, Sony says task of bringing it back up is 'time consuming'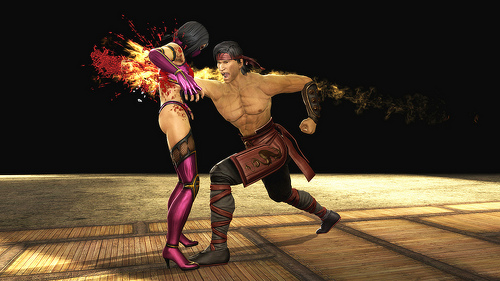 The devastating PlayStation Network outage continues unabated today, with Sony issuing a long-overdue new statement. Patrick Seybold, Sony senior director of Corporate Communications & Social Media, posted the update to the PlayStation Blog, as the network outage entered its fourth full day.
"We sincerely regret that PlayStation Network and Qriocity services have been suspended, and we are working around the clock to bring them both back online," Seybold writes. "Our efforts to resolve this matter involve re-building our system to further strengthen our network infrastructure. Though this task is time consuming, we decided it was worth the time necessary to provide the system with additional security."
Earlier, Seybold said that Sony took PSN offline following an "external intrusion," which is a polite way of saying security breach. The outage's length and the wording of Seybold's statements are foreboding, foreshadowing a potentially troublesome intrusion. Sony has offered few details about what happened, which could be construed as a stalling tactic -- as the engineers assess how long and how broadly PlayStation Network had been hacked and whether or not customer data was pilfered. Then there is the arduous task of restoring the network so that it's hardened against further hacks.
The PSN breach is but one of several recent incidents affecting high-profile services. On April 13, WordPress.com acknowledged a troubling intrusion. Founder Matt Mullenweg explained in a blog post: "Automattic had a low-level (root) break-in to several of our servers, and potentially anything on those servers could have been revealed." Root access allowed hackers to see source code and private information of some WordPress.com premiere customers. There is no indication the two incidents are related, nor do I insinuate any. The point, simply: Sony isn't alone finding an "external intrusion" to its network.
Set against another incident -- Amazon Web Services' nearly two-day outage -- PSN's problems raise yet more concerns about the reliability of cloud services. Interestingly, or coincidentally, Amazon and Sony service outages overlapped.
In his blog post, Seybold writes: "We thank you for your patience to date and ask for a little more while we move towards completion of this project. We will continue to give you updates as they become available."
Patience is one thing many PlayStation Network subscribers don't have after four days of waiting. Betanews' second story about the incident posted at 4:05 p.m. ET on Saturday. As I write, there are 198 comments.
Commenter Darkwolf5573 writes:
I for one am very angry at Sony because:

1. They should have made some kind of back up plan if this was to happen so they wouldn't lose millions of dollars and millions of custormers.

2. I am very dissapointed with Sony.

3. I have been waiting all week to relax and play on my PS3 with my friends on PSN.

But when I saw that error message on Thursday and looked into it, I was so angry and dissapointed with Sony. Sony, you were at a 5 star rating in my book, but now, you've just gone down to about a 2 to 3 star rating. C'mon Sony! You guys should've done a way better job with this.
Many commenters express frustration at not being able to play online over a long holiday weekend. "I am truly pissed off!" writes commenter Dutch116. "I have not been able to play for the past several days...we are goin on day 4! I am serously thinking of switching to Xbox, especially when my father is playing Black Ops all day on the X."
Commenter lovenit is enjoying the outage:
I made [a Betanews] account just so I could make a comment. I'm enjoying the fact that the newtork is down. My family can now do stuff together for a change. We went to the movies today, then went [and] played a game [of] basketball at the gym. B4 the network went down, my son stayed in his room with his friends, and my hubby stayed in the game room with his friends. It's nice to see that I'm not the only one in the house anymore.
Sandman6052 cautions everyone to chill: "I just think that getting all worked up over this is ridiculous. When you get all mad and stuff, the hackers win -- lol -- serious, go outside and hang out with friends."