Sony shows two Android 3.0 tabs, hints at Vaio-branded Windows tablet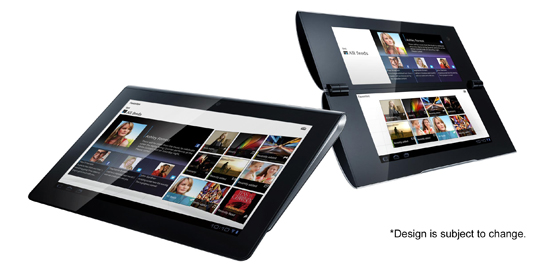 Sony Corporation on Tuesday unveiled its first two Android-powered "Sony Tablets" codenamed S1 and S2, and referenced rumors from earlier this year about a Vaio-branded Windows 7 tablet.
Both devices will run Google's tablet-specific version of Android, "Honeycomb" (Android 3.0) and will be tied into Sony's various online media services: Qriocity for music and video, the Reader Store for e-books, and PlayStation Suite for gaming.
The S1 tablet has a 9.4" display and is wedge-shaped for "ease of grip" and more natural laptop use. In most respects, it looks like it will be a standard Android tablet, but will differ slightly in that it will include an infra-red emitter in addition to DLNA compatibility, so it can be used to control Sony's AV devices like Bravia TVs and home theater units directly.
The S2 offers a dual-screen clamshell design like the Nintendo DS or Kyocera Echo. Like those devices, Sony is already marketing the device as being ideal for gaming. It has two 5.5" displays which, like the Kyocera Echo, will be able to display different but concurrent content, such as an email client on top with soft keyboard below, or video on top and browser below.
Sony explained the position of these devices in the following way: Sony Computer Entertainment will have the next-generation portable entertainment system (aka "NGP"), while Sony Ericsson will have the Xperia PLAY. These new Sony Tablets will simply be the product of the new Sony Consumer Products and Services Group <!external href="http://www.sony.net/SonyInfo/News/Press/201103/11-032E/index.html">that was announced earlier this year.
Like Motorola, Sony is dividing itself into one branch for consumer products, and one for business-to-business hardware and solutions. The Consumer Products and Services division will be headed by Kazuo Hirai, Sony's current Corporate Executive Officer and Executive Vice President, and it will include TV, Home Video, Home Audio, Digital Imaging, PC, Game and Mobile products and all the networked service businesses.
However, there was a Vaio-branded Windows 7 tablet <!external href="http://www.bgr.com/2011/02/21/sony-readying-dual-display-android-tablet-sliding-windows-7-vaio-tablet-for-q4/">rumored to be in the works from Sony earlier this year, and the company today indirectly addressed this rumor.
"The mobile computing category, the market for PCs which realize high productivity is expected to steadily grow, particularly in emerging markets. Therefore, Sony will also remain committed to strengthening its VAIO brand and introduce increasingly compelling products which offer new value propositions to the market," the company said.
Sony did not provide any information about pricing or release dates, and the timing of today's announcement looks to have been carefully chosen to draw attention away from the continuing PlayStation Network outage which is thought to have been caused by a major security compromise.