SugarSync for Android: Cloud backup all the time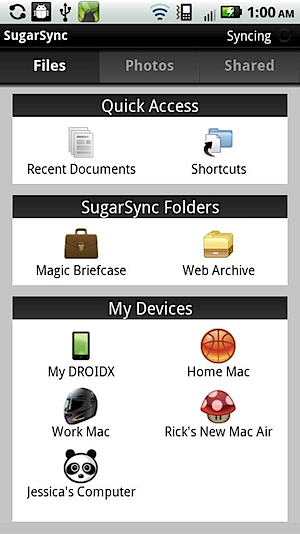 Hot on the heels of its iPhone app, SugarSync Inc has released a new mobile Android version of its SugarSync online backup application for Windows and Mac. SugarSync for Android sports AutoSync technology, which makes it simple and easy to back up and synchronize content on your Android phone with your computer without having to plug it in.
SugarSync offers online backup, sync and file-sharing for PCs, Macs and mobile devices. A free 5GB account is available, or users can upgrade to one of a number of paid-for plans, with prices starting at $49.99 a year (or $4.99 a month) for 30GB storage space.
SugarSync is aggressively marketing the Android version of its app as an automatic wire-free backup solution for Android phones. As content, such as photos, are added to the phone, SugarSync works quietly in the background to upload data to the user's cloud-based online SugarSync account, which in turn can be synchronized (and backed up) to all desktop computers also running SugarSync.
The sync works two ways: data from the user's computers are also backed up to Android devices, perfect for accessing data through an Android tablet, editing it on the move, and then watching it automatically resync when next connected to the Internet. The user controls exactly what data gets synchronized, and to which devices, to prevent the phone being flooded with superfluous data.
SugarSync for Android is available now, alongside other mobile versions for iPad/iPhone and Blackberry. A separate desktop version is also available for Windows, Mac and Linux computers.
Get more mobile apps news like this at Software Crew.