Microsoft Q3 2011 by the numbers: Record $16.43B, Windows revenue declines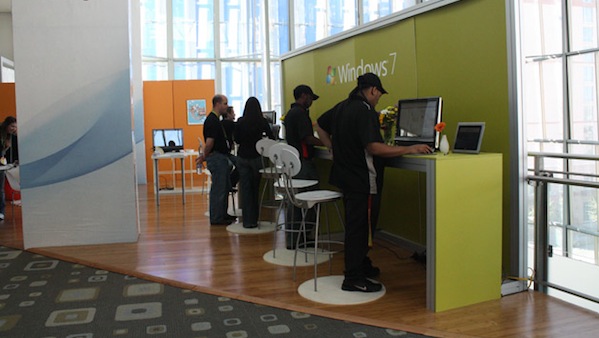 Today, after the closing bell, Microsoft answered an oft-asked question: What would the quarter be with no new major products in the pipeline? Would Windows 7 and Windows Server R2 (released October 2009) and Office 2010 (released May 2010) provide enough sales tailwinds?
For fiscal 2011 third quarter, ended March 31, Microsoft's revenue rose 13 percent to $16.43 billion, year over year. Operating income: $5.71 billion, or 10 percent increase. Net income rose 31 percent to $5.23 billion, or 61 cents a share. Earnings per share rose by 36 percent year over year.
Twenty-seven months ago, Microsoft stopped providing Wall Street analysts with quarterly and yearly guidance, in a move that is highly unusual for so large and so successful a public company. Microsoft's refusal to give guidance creates unnecessary negative perceptions about its performance. As such, Wall Street analysts had to rely solely on their wits to call the quarter (again). Average consensus was $16.1 billion revenue and 56 cents earnings per share. Revenue estimates ranged from $15.83 billion to $17.17 billion, with estimated year-over-year growth of 11.7 percent. So Microsoft topped the Street.
"We delivered strong third quarter revenue from our business customers, driven by outstanding performance from Windows Server, SQL database, SharePoint, Exchange, Lync and increasingly our cloud services," Microsoft COO Kevin Turner said in a statement. "Office had another huge quarter, again exceeding everyone's expectations, and the addition of Office 365 will make our cloud productivity solutions even more compelling."
The PC Shipments Quandary
For the second quarter in a row PC shipments hung like a shadow over Microsoft results. Fifteen days ago, Gartner and IDC reported weaker-than-expected demand during first calendar quarter, which coincides with Microsoft's third fiscal quarter. Globally, PC shipments fell 3.2 percent year over year during first quarter, according to IDC, while Gartner put the decline at a less anemic 1.1 percent. Gartner had predicted 3 percent growth, while IDC expected 1.5 percent growth. Manufacturers shipped 84.3 million PCs in the quarter, according to Gartner, and 80.6 million by IDC's estimate.
The reasons for the declines are worse for Windows PC manufacturers, which have played a fierce game of lowering prices. The gambit's effectiveness is over. "Weak demand for consumer PCs was the biggest inhibitor of growth," Mikako Kitagawa, Gartner principal analyst, said in a statement. "Low prices for consumer PCs, which had long stimulated growth, no longer attracted buyers.
"Instead, consumers turned their attention to media tablets and other consumer electronics. With the launch of the iPad 2 in February, more consumers either switched to buying an alternative device, or simply held back from buying PCs. We're investigating whether this trend is likely to have a long-term effect on the PC market."
The problem isn't so much that tablets are replacing PCs as displacing some of their functions. People who might otherwise buy a new PC are getting other devices instead. According to a recent AdMob survey of tablet owners, seven out of 10 use their PC less. Nearly 30 percent of tablet owners use the device as their primary PC.
But while the consumer market goes gaga over tablets, businesses have been down to the business of upgrading aging Windows XP PCs. When Windows 7 launched in autumn 2009, about 80 percent of the install base was still on XP. The lengthy, and heady, transition has been good for Microsoft, which last week revealed 350 Windows 7 license sales during the operating system's first 18 months of marketability. Yesterday, Gartner revealed that Windows accounts for 78.6 percent of all desktop and server OS revenues.
However, even with businesses continuing Windows 7 upgrades, revenue for the Windows & Windows Live division fell 4 percent year over year.
Q3 2011 Revenue by Division
Windows & Windows Live: $4.445 billion, down from $4.650 billion a year earlier.
Server & Tools: $4.104 billion, up from $3.706 billion a year earlier.
Business: $5.252 billion, up from $4.341 billion a year earlier.
Online Services Business: $648 million, up from $566 million a year earlier.
Entertainment & Devices: $1.935 billion, up from $1.21 billion a year earlier.
The Mobile Conundrum
Microsoft's most immediate, long-term competitive challenge remains mobile, where upstarts like Apple and Google body slammed Windows Mobile during 2009-10. There is the aforementioned competition from iPad, too. Apple shipped 4.69 million tablets during calendar Q1 for about 19.5 million total for the first four quarters of sales. Apple's tablet generated nearly $12.4 billion in new revenue during the first 11 months of availability. Mobile devices running Apple's iOS generated $43.79 billion during calendar 2010, or about 57 percent of Apple revenues.
By most every estimate, mobiles are the future of computing, something iPad's negative impact on PC sales shows. Mobile applications are set to generate enormous revenues that may soon begin to cannibalize PC applications. Gartner predicts $15 billion revenue generated by mobile apps this year, up nearly three times from 2010.
But Microsoft isn't rudderless in the cloud-conncted device seas. During the quarter, Microsoft and Nokia announced a definitive, non-exclusive agreement for Windows Phone 7. Nokia plans to ship Windows Phone as its primary operating system, starting in 2012. Nokia and Microsoft signed the deal -- it's official now -- one week ago. Yesterday, the axe fell at Nokia: Symbian is being outsourced to Accenture and 7,000 Nokia employees will be transferred or sacked. Gartner and IDC both predict that the deal will propel Windows Phone to second in smartphone market share, behind Android, by 2015. Meanwhile, Microsoft plans Windows 7.5, codename "Mango," for release before the holidays.
As for tablets, Microsoft is working on a new version of Windows for ARM processors. There categorization gets messy. Gartner and IDC classify Android, BlackBerry and iOS slates as "media tablets." While tablets running Windows count as PCs. This has caused some confusion among bloggers and journalists about Microsoft having no tablet strategy.
I contend that Microsoft could still be a major player in the cloud-connected device market even without a tablet or tablet operating system, from back-end hosted applications and Azure.
Q3 2011 Income by Division
Windows & Windows Live: $2.764 billion, down from $3.073 billion a year earlier.
Server & Tools: $1.419 billion, up from $1.27 billion a year earlier.
Business: $3.165 billion, up from $2.542 billion a year earlier.
Online Services Business: Loss of $726 million, up from $709 million loss a year earlier.
Entertainment & Devices: $225 million, up $150 million a year earlier.
Breakdown by Division
Microsoft reports revenue and earnings results for five divisons: Windows & Windows Live, Server & Tools, Business, Online Services and Entertainment & Devices.
Windows & Windows Live. Weaker than-expected PC demand hurt the division during fiscal third quarter, with revenue falling 4 percent year over year. Profits declined, too (see below). While Microsoft reported business PC sales up 9 percent year over year, consumer sales fell 8 percent. Netbook sales plummeted 40 percent, which is mixed blessing. According to analysts, many potential netbook buyers are choosing tablets, with major benefit going to Apple -- that's the bad. The good: Netbooks generally ship with lower-margin Windows versions, such as Starter Edition. The shift in mix to "Premium" Windows versions is better for Microsoft.
Overall, Microsoft said that global PC sales declined 2 percent year over year, which is in line with aforementioned analyst data. OEM revenue fell by 3 percent, which is to be expected given the macro-PC economics. Enterprise Windows 7 deployments doubled over six months, Microsoft Peter Klein said during Microsoft's earnings conference call today.
Server & Tools. Revenue rose about 11 percent year over year. The division is insulated against economic maladies, because about 50 percent of revenues come from contractual volume-licensing agreements; annuity revenue grew by 11 percent year over year. Additionally, enterprise services revenue grew by 12 percent, or $90 million.
"Product revenue increased $308 million or 10%, driven primarily by growth in Windows Server, SQL Server, and Enterprise Client Access License ("CAL") Suites, reflecting continued adoption of Windows platform applications," according to Microsoft financial statements.
Business. The division was the quarter's big overall performer, with revenue up 21 percent year over year. Business non-annuity revenue grew by 28 percent, which isn't ideal. Microsoft benefits more when businesses buy annuity contracts, which revenue grew by just 5 percent. Consumer revenue rose 26 percent, or $220 million, surprising considering Microsoft's cited attach rate to PCs, which sales were down for the quarter.
Starting with the 2003 release cycle, Microsoft repositioned Office as the front end to the larger stack of server applications. During fiscal 2011, Microsoft has started to reap substantial sales from the strategy. Klein described Office 2010 as the fastest-growing version of the suite -- deployments are five times Office 2007. But this isn't happening in a vacuum. Enterprises are "purchasing our entire productivity suite platform," he said. Klein's comment puts context behind Turner's canned statement about server software.
It's my assessment that fiscal 2011 marks a turning point for Microsoft's two cash cow products -- the ascension of Office as the stronger product and one with greater sales longevity. Some of that relates to the aforementioned competition from cloud-connected devices but also the success of the Office-as-front-end to back-end business processes running Microsoft server software.
Like, Server & Tools, contractual volume-licensing agreements are high -- 60 percent, which directly derives from the Office-to-server applications stack strategy. This largely insulates the division from slowdowns in the PC market. By comparison, only about 20 percent of Windows sales come from contractual licenses. Most customers by the operating system with new PCs.
Online Services Business. Search and display ads drove up online advertising revenue by 17 percent -- $84 million to $586 million. Despite revenue gains, the division's losses increased from fiscal Q3 2010.
Entertainment & Devices. The division's revenue increased a whopping 60 percent year over year. Microsoft shipped 2.3 million Kinects during the quarter days, adding to the 8 million units from the sequential launch quarter. Xbox console sales rose 79 percent -- that's 2.7 million units. "Xbox 360 platform revenue grew $712 million or 69 percent, led by sales of Kinect sensors, increased volumes of Xbox 360 consoles, and higher Xbox Live revenues," according to Microsoft financial statements.
Regarding Windows Phone, Microsoft claims 90 percent customer satisfaction. However, the company didn't release sales figures.
[Editor's Note: This was a live document from 4:24 p.m. EDT until 6:06 p.m., following Microsoft's earnings call.]