USB Immunizer: Last defense against auto-run malware?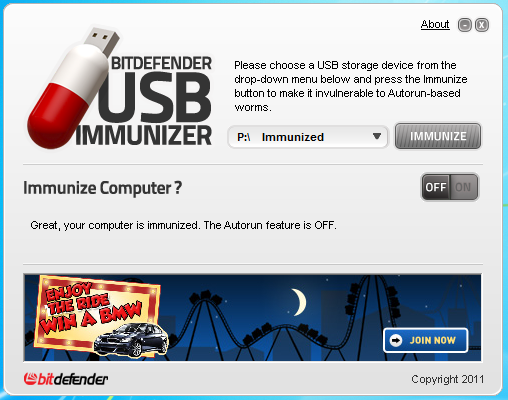 Security firm BitDefender's report for Q1-2011 highlighted autorun-based exploits as one of the most exploited PC security vulnerabilities. But there's no need to panic, just yet. The company has conveniently just released a free USB Immunizer tool that promises to address the issue.
The program is easy to use, essentially just creating an Autorun.inf folder on your chosen drive, which in turn contains additional files and a hidden folder. So if you plug the device into an infected PC, and something attempts to write a new Autorun.inf file, then it won't be able to do so. Or, at least, that's the plan.
In reality, a virus could get around this by deleting the contents of the Autorun.inf folder, then the folder itself. BitDefender has made this a little more complicated, though, by using nested folders, and making liberal use of the Hidden attribute. As most current malware won't even try to get around these obstacles, the USB Immunizer will provide some genuine protection, even if it might be bypassed in the future.
The program does offer an additional layer of security, however, by checking your autorun settings for removable devices (other than CDs or DVDs). If autorun is enabled, then a warning alerts you to the problem. You're able to disable the feature at a click, and then even if malware has managed to add an autorun.inf file to one of your drives, Windows won't execute it and you'll avoid automatic infection.
Get more applications news like this at Software Crew.