Comcast-NBC merger-favoring FCC commish now a lobbyist

The merger of NBC and Comcast had its opponents when it was first announced in December 2009, however the FCC later found it to be acceptable and approved the merger the following year. Now one of those FCC commissioners behind the approval is the combined company's newest hire.
Republican Commissioner Meredith Atwell Baker was one of the most vocal critics of placing any conditions on the deal, and said it could "bring exciting benefits to consumers that outweigh potential harms." Four months later, Comcast/NBCUniversal's Washington office has a new senior vice president of government affairs.
Baker's hiring is sure to raise concerns that her judgement in the decision to approve the mega merger may have been clouded somewhat. Obviously, Comcast/NBCUniversal attempted to put the best spin possible on the seemingly controversial hire.
"Commissioner Baker is one of the nation's leading authorities on communications policy and we're thrilled she's agreed to head the government relations operations for NBCUniversal," president Kyle McSlarrow said in a statement. He highlighted her Washington connections as reasons for her hire.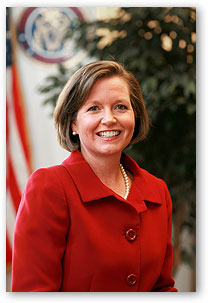 Obviously, groups that had railed against the merger are similarly speaking out against Baker's hire as well. Media interest group Free Press pointed out that as late as two months ago, Baker was saying that the merger approval process took too long, and called the move "business as usual in Washington."
"The continuously revolving door at the FCC continues to erode any prospects for good public policy," Free Press president and CEO Craig Aaron said in a statement. "We hope -- but won't hold our breath -- that her replacement will be someone who is not just greasing the way for their next industry job."
Baker was appointed by President Obama in June 2009. She is the second commissioner to announce his or her resignation from the FCC -- Commissioner Michael Copps is set to leave at the end of the year after 10 years -- but certainly is not the first Washington to take a position like this.
Former Senator Chris Dodd had repeatedly said that he would not take a job as a lobbyist following his departure from the US Senate. His new job? Chairman and CEO of the MPAA, a major entertainment lobbying group.