YouTube 100: Chart with professional musicians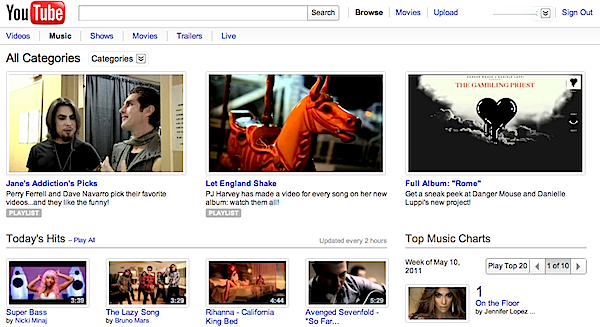 Move over Billboard. "The times they are a-changin'." Today Google launched a music chart for videos -- the YouTube 100 -- that empowers Jack and Jane Wannabe to stand tall with the likes of Lady Gaga or, gasp, Justin Bieber. The chart tracks "song popularity in user-generated and professional music videos," Chris LaRosa, Google Music product manager, explains in a blog post.
YouTube is still mostly about user-generated content, and opening information -- and possibilities -- is fundamentally in keeping with Google corporate philosophy. So it's very appropriate that Google's music chart should include user-generated videos alongside those from popular, commercial musicians.
"Not only does the YouTube 100 give props when fans make original videos for popular songs, it also captures YouTube's one-of-a-kind musical diversity: Nice Peter ranks on the chart alongside global radio stars, and Rebecca Black hits the Top 10," LaRosa writes.
But I've got to wonder: Won't user-submitted fan videos violate somebody's copyright? How funny, if popularity led to take-down notices that stripped the chart of some of the most popular user-submitted videos.
Still, the spirit of the chart fits YouTube and it resonates with the social sharing generation. Google's chart potentially will be different from others, like Billboard's or iTunes. I say "potentially," since commercial hit makers dominate the Top 10. Well, look at that. Rebecca Black's "Friday" is No. 8, with nearly 137 million views. It's the video everybody loves to hate. Well, not everybody. There are 377,506 "likes." Ah -- and 2.7 million "dislikes."