Kobo fights Kindle and Nook with new touchscreen e-reader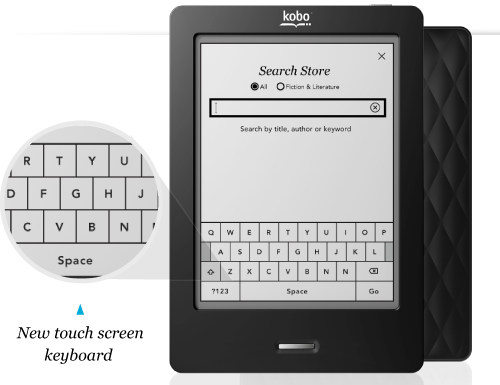 E-reader company Kobo on Monday revealed a new touchscreen e-reader that will continue the company's tradition of low-cost but widely distributed e-reading alternatives to Amazon's Kindle and Barnes and Noble's Nook.
The new Kobo eReader Touch Edition sports a 6" E Ink Pearl display endowed with Neonode zForce infrared touch technology. It runs on a Freescale i.MX508 processor and has 1GB of built-in storage with a microSD slot that supports cards up to 32GB in size.
Kobo eReader Touch Edition will be available at Best Buy, Wal Mart, Borders, and Indigo for $129.99 alongside the <!article id="1273250992">original Kobo e-reader which just dropped down to only $99.
As the book retail landscape changes, e-books and e-readers are viewed as the future core of the business.
Borders Group, the bankrupt book retailer that launched Kobo as its flagship e-reader exactly one year ago, is reorganizing its business around the e-book boom. According to a document filed recently, Borders is
<!external href="http://www.businessweek.com/news/2011-05-23/borders-wamu-highview-windstar-blockbuster-bankruptcy.html">terminating its contract with Starbucks subsidiary Seattle's Best Coffee Shops to save $10 million in operating costs. Removing coffee from bookstores is a definite sign of the times.
Borders' principal competitor, Barnes and Noble, is being courted for acquisition by DirecTV parent Liberty Media. In a statement last week, <!external href="http://ir.libertymedia.com/phoenix.zhtml?c=61138&p=irol-newsArticle&ID=1565958&highlight=">the company cited Barnes and Noble's excellent position in the "transition to digital."
Amazon, on the very same day as Liberty's announcement, announced <!article id="1305820236">it is now selling more e-books than paper books.
So even though Kobo is <!article id="1278514995">fighting for e-reader market share against leader Amazon and second place Barnes and Noble, it has a strong third place position with more affordable dedicated hardware, and an e-bookstore with over 2.3 million books, magazines and periodicals, and a retail presence in more than 100 countries.