Chinese prisoners forced into WoW "goldmining" scheme, says detainee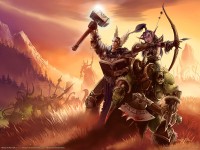 In what could be considered the most modern form of prisoner torture known, prisoners in a labor camp in northeastern China have allegedly been forced to play MMORPG's like World of Warcraft in an elaborate scheme said to net prison bosses approximately $800 to $900 per day.
A former prisoner who identified himself as "Liu Dali" <!external href="http://www.guardian.co.uk/world/2011/may/25/china-prisoners-internet-gaming-scam">told the Guardian that guards forced prisoners to work 12-hour shifts on a procedure commonly referred to as "gold mining." The process essentially requires long hours of playing the game to build up credits, which are then in turn sold for real money.
Prisoners did not see any of the money they made for their bosses, he told the publication.
Liu called the experience "surreal," and said that just like when prisoners fell behind in actual manual labor, the punishment for falling behind virtually was equally severe. "They would make me stand with my hands raised in the air and after I returned to my dormitory they would beat me with plastic pipes," he said of the experience. "We kept playing until we could barely see things."
Although profiting seems to be against the Communist way, it has become a big business -- and a big problem -- in China. Eighty percent of the so-called "gold farmers" are located in China, and in one case the government prosecuted an individual for stealing game credits worth about $460 USD.
The central government made an attempt at regulating the transfer of virtual currency back in 2009, requiring companies to be registered. Liu said he had reason to believe that the government itself may be profiting off this suddenly lucrative industry, and the Jixi labor camp where he was held was likely not the only prison camp participating in the moneymaking scheme.
While "gold mining" is quickly becoming a lucrative shadow industry in the gaming sector, the Guardian's report is the first time it is known that the process was being practiced as part of forced labor.