The Mac malware problem is bigger than you think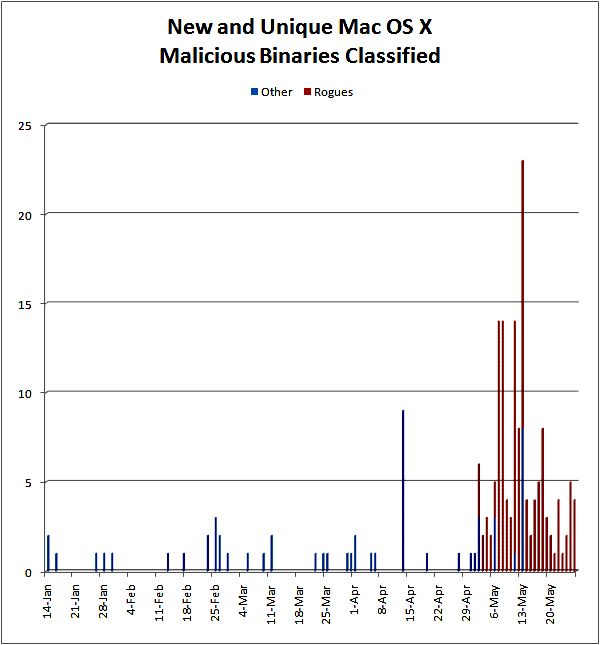 Take a long hard, really hard, look at the above chart, which Craig Schmugar posted today at the McAfee Labs blog. Look at the dramatic increase, basically from none, in "rogue" malware (e.g., fake security software) during May.
He asks: "Is this merely a short-term blip on the radar or the beginnings of a trend for Mac threats? Time will tell." Lots of people are asking that question. The answer is easy. It's yes, if there's ongoing money for malware writers to make and no if there isn't.
As I explained this morning, nothing is different about Mac OS security now than before this recent onslaught of fake security applications: "As Mac Defender and countless Windows malware show, successful attacks are more about social engineering than lax operating system security."
Schmugar sees things similarly: "Mac users should understand that millions of Windows threats exploit the user, rather than the operating system." Whether or not his intention, I say this speaks to fanatical Mac fan assertions that Apple computers are largely invulnerable to viruses.
"Attackers target the curiosity of the person at the helm of the mouse, who's just a couple clicks away from watching that video, seeing a photo, or obtaining the system protection they've been 'promised.'" Schmugar writes. "Sadly, many Windows users have grown accustomed to the tactics of those who seek to gain control over their PCs. But even sadder will be the non-Windows users who have lived in ignorant bliss."
How ignorant? Here's an update on Betanews' poll asking Mac and Windows users if anti-malware software is installed on their primary home PCs. The trend is consistent since the first few votes. Out of 832 respondents to the Windows PC question, 86.66 percent use anti-malware software. By comparison, 84 percent of the 582 Mac respondents don't have anti-malware software installed on their primary computers.
Please read Betanews' other stories on this topic (presented from newest to oldest):
Are you a Mac user who recently downloaded or even installed Mac Defender or other malware? Please tell us about it in comments.