Why can you download Office for Mac 2011 from Amazon but not Apple?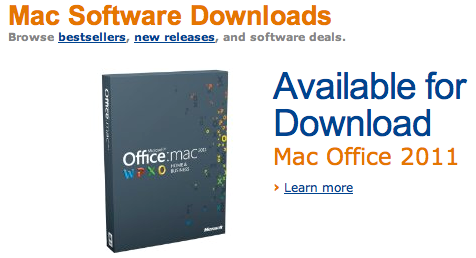 If you've seen Amazon's new Mac Software Downloads store it's the question to ask. Amazon offers digital downloads from the Mac's two largest developers, Adobe and Microsoft. Apple does not. Well, Windows Phone 7 Connector is available from Apple's shop. But, hey, where's Microsoft Office?
Perhaps the answer to that question will come next month during Apple's Worldwide Developer Conference, where Mac OS X 10.7 "Lion" takes center stage. The Mac App Store, which debuted in January as an add-on to v10.6 "Snow Leopard," will be built into Lion.
Amazon's Mac shop competes in the strangest of ways -- offering the big-name digital downloads you can't now find at the Mac App Store. Perhaps it's no coincidence the software selection largely aligns with the boxed versions also sold by Amazon. Prices are surprisingly aggressive. Amazon offers Office Home and Student 2011 for $115. Microsoft's online store charges $149.99 for the digital download. Boxed version is $117.28 from Amazon and $149.99 from Microsoft.
Amazon sells Photoshop and Premiere Elements 9 Bundle for $119.99 as download or boxed. Adobe charges $149.99, although there is a $30 mail-in rebate. Final Draft 8 download is $172.99 from Amazon and $249 from the developer. Boxed version is less than the download from Amazon -- $168.28. I could go on, but you surely get the point. Amazon's pricing is aggressive.
As with Windows software downloads, Amazon provides customers with a "Software Library" from which they can redownload applications or games (the Mac games store is new, too, by the way). Hey, look ma, no lost DVDs or license numbers!
The top Mac downloads from each store tells a story. Amazon has more big developers, while Mac App Store has more titles from smaller developers and more Apple applications among the best sellers. Top-5 from Amazon: Office Mac Home and Student 2011; Office Mac Home and Business 2011; Learn Spanish; Final Draft 8; and Adobe Photoshop Elements 9. From Apple: FaceTime; Pages; iPhoto; Xcode; and iMovie. Six of the top 12 Mac App Store titles are from Apple.
Looking at the lists, it's reasonable to ask if Adobe or Microsoft would want to compete with Apple in the Mac App Store. Oh, and for anyone who says no Mac users want Microsoft Office, just refer them to Amazon's bestseller list.
The top Mac game downloads also couldn't be much different. Top-5 from Amazon: Big Kahuna Reef; Matches & Matrimony: A Pride and Prejudice Tale; Airport Mania: First Flight; Mosaic: Tomb of Mystery; and A Fairy Tale. Top5 from Apple: Angry Birds; Mortal Combat: Domination; Where's Waldo; Andry Birds Rio; and Sid Meier's Pirates.
Another question: Is there no one Amazon won't compete with? The retailer now has digital download stores competing with Android Marketplace, Mac App Store and just about every digital download/streaming music or video service. Amazon takes on Apple and Google and Netflix and who else next?
In terms of convenience, Apple's Mac App Store is hard to beat. The store is self-contained within Mac OS X and app presentation is attractive and title discovery/search easy. True to its roots, Amazon's Mac Software Downloads store is web based. There's a whole lot more clutter (and confusion), but, as mentioned, there are also big titles from big developers.
So what's the answer to the "Why" question in the headline? I'll give one: Apple competes with the larger third-party developers at the Mac App Store. Amazon is a retailer and does not. Meanwhile, smaller developers who can't easily find physical or even digital shelf space at retail gain many benefits from Apple's store -- distribution, payments and piracy-discouraging DRM, among others. Then there is profit-sharing -- Apple takes a 30 percent cut. That might be OK with smaller developers looking for greater exposure. It's different for bigger developers. If Adobe or Microsoft, would you want to compete with Apple and give up 30 percent of sales?
Mac users, would you like to see Microsoft Office or Adobe photoshop carried at the Mac App Store? Please answer in comments.