Perhaps Microsoft didn't overpay for Skype after all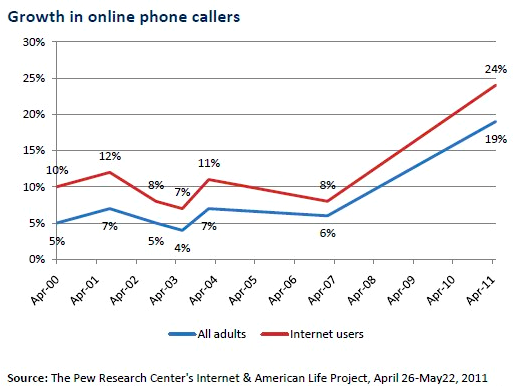 According to Pew Internet, nearly one quarter of American adult Internet users have placed phone calls online. That works out to 19 percent of U.S. adults. Hell, this is but one country -- with huge built-up telephony infrastructure. What about the world?
"On any given day 5 percent of internet users are going online to place phone calls," according to Pew. That may seem like a small number, but it's part of a big trend. The chart above -- and the steep climb in number of people who call online -- is graphic enough. The number of Internet users making online calls since April 2007 climbed from 8 percent to 24 percent three years later.
Pew surveyed 2,277 U.S. adults between April 26 and May 22, with 846 responding to the online phone calling question. I wouldn't be surprised if the percentages would be higher if Pew included 13 to 17 year olds in the survey. It's my experience, as the parent of a teenager, that Skype video calling, at least, is popular with the age group.
Pew cites three major reasons for increased online phone calling's popularity: "It is free or cheaper than other types of phone calling; it is enabled on many handheld devices like smartphones and tablet computers; more and more meetings and classroom activities exploit online phone connections along with video capabilities; and more families and friends are building online calls into their communications streams."
Something else: "The rise of video calling, especially on smartphones, is also part of the story. In the current survey, we found that 7 percent of cell phone owners had participated in video calls or online chats with their handheld device."
Microsoft couldn't ask for more opportune timing or better validation of its $8.5 billion Skype acquisition, announced 21 days ago. Some analysts harped that the software giant overpaid for Skype, and certainly the investment group holding the Internet phone calling service made $5 billion on the deal.
<!image id=6926 center>
The steep growth curve in online calling foreshadows opportunity for Microsoft and Skype. Already Skype claims a total of "170 million connected users and over 207 billion minutes of voice and video conversations in 2010."
Something else: previous online-calling awareness is matched by current adoption. "It is interesting to note that the percentage of American internet users who have placed phone calls online is now about the same as the percent who were aware in 2004 that it was possible to use the Internet for phone calling," according to Pew, which "did a survey in February 2004 asking about the incidence level of online phone calling, which then stood at 11 percent of Internet users."
The question really to ask: What will Microsoft's brand attached to Skype and online phone calling do to increase awareness and adoption? I think whole lots. Do you agree? Please answer in comments.