Elcomsoft launches free tool for extracting Facebook passwords

Russian security software company Elcomsoft on Thursday released a free tool dedicated solely to recovering Facebook passwords cached in Internet Explorer, Firefox, Safari, Opera, and Chrome called Facebook Password Extractor.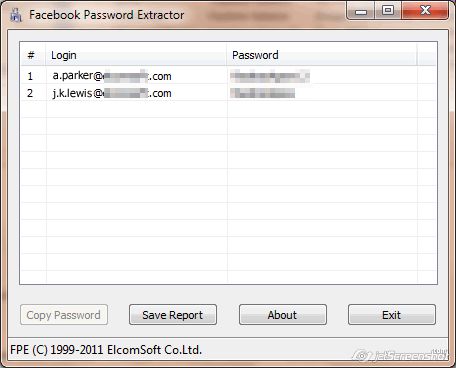 We've looked through a lot of software, and this is the first freeware we've seen dedicated solely to peeling Facebook login information out of a system. It's based on Elcomsoft's Internet Password Breaker, a $49 piece of password recovery software that can extract account information from other social networks, webmail, POP3/IMAP, and instant messenger clients.
When launched, the software recognizes any Web browsers installed on the host system, and then analyzes their password cache and stored auto-login forms for Facebook login information. It supports most of the current versions of the common desktop browsers, including Internet Explorer 9, Firefox 4, Opera 11, Chrome 11, and Safari 5.
Download Facebook Password Extractor in FileForum now and let us know what you think. If it can't extract a password, Elcomsoft offers an unconditional money-back guarantee. (Very funny, guys.)