Tip: Free Opener accesses 75+ file types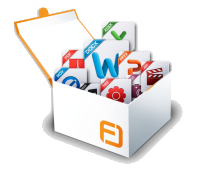 Preparing a laptop to handle all the files it might encounter can be a tedious business. You may need to install PDF and Office viewers, graphics programs, a media player, archiving tools -- the list goes on. But maybe there's a simpler way. Download and install Free Opener, instead, and this one program will display more than 75 file formats for you.
You'll be able to open Office documents, for instance (DOC, DOCX, XLS, XLSX, XLSM, PPTX, PPT, and PPS). PDF files. Archives (7z, ZIP, RAR, GZ, TAR, TGZ, JAR). Flash files (SWF), assorted source code formats, a selection of RAW image formats, and many other graphics, video and audio file types.
In order to do this, though, the program installs various components, including the K-Lite Codec Pack and the .NET Framework Client Profile, and without asking. If you're installing Free Opener on a brand new system then you may not care, but if you prefer to keep more control of the software on your PC then this might be reason enough to give the program a miss.
And the viewers themselves are a little on the basic side. Open a lengthy PDF file or Word document, for instance, and you're used to scrolling directly to the page you need with the right-hand scroll bar. You can't do that in Free Opener, though, as the scroll bar only represents the current page, not the entire document: you have to click through a page at a time, or enter a page number directly, which may be annoying.
This issue doesn't apply to every viewer, though: you can open a PowerPoint presentation and scroll straight to any particular slide, for instance. And other viewers let you work with your chosen files, so you might open a PHP module and edit it, or open a RAR file and extract one or two of its files to whatever folder you like.
The tool is still no substitute for the full applications, of course: if you really want to work with archive files, say, then installing something like 7-Zip will deliver far better results.
If you have an underpowered laptop, though, which doesn't have the drive space to install Office and a host of other apps, and only needs basic file viewing capabilities anyway, then Free Opener is definitely worth a closer look.