MobileMe isn't just free, it's going away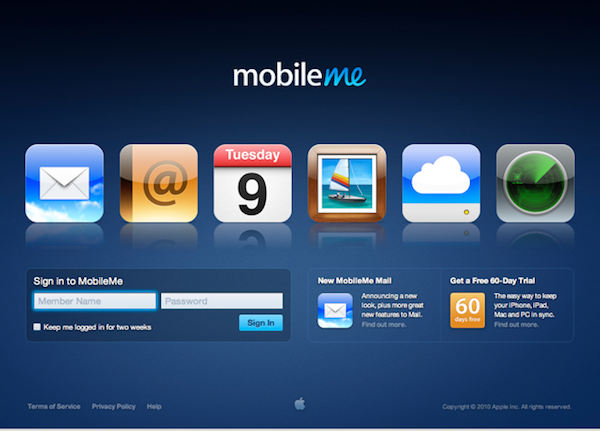 That's right. During Apple's Worldwide Developer Conference today, CEO Steve Jobs said that MobileMe's price would drop from $99 to free. But there's more to it. I just received email from Apple stating the service will retire in little more than year.
No surprise, iCloud, which Jobs announced today, will replace MobileMe. How many times is Apple going to change the name and function of its online service, I wonder. Anyone remember iTools, which Apple debuted in January 2000? That was a free service, too. Then in summer 2002, Apple unveiled .Mac, which would replace iTools and institute a yearly subscription fee.
Six years later, Apple axed .Mac and replaced it with MobileMe. The new service kept the subscription fee but added synchronization, which proved valuable for iPhone and other iOS devices.
Now there is iCloud, the fourth version of Apple online services in 11 years -- and it's back to free, where it started. Here's the official email sent to subscribers:
Dear MobileMe member,

We'd like to share some exciting news with you about iCloud -- Apple's upcoming cloud service, which stores your content and wirelessly pushes it to your devices. iCloud integrates seamlessly with your apps, so everything happens automatically. Available this fall, iCloud is free for iOS 5 and OS X Lion users.

What does this mean for you as a MobileMe member?

When you sign up for iCloud, you'll be able to keep your MobileMe email address and move your mail, contacts, calendars, and bookmarks to the new service.

Your MobileMe subscription will be automatically extended through June 30, 2012, at no additional charge. After that date, MobileMe will no longer be available.

When iCloud becomes available this fall, we will provide more details and instructions on how to make the move. In the meantime, we encourage you to learn more about iCloud.

Sincerely,

The MobileMe Team
Apple also has posted a notice on the service's website: "Looking for MobileMe? MobileMe is no longer accepting new subscribers. If you're a current member, you can still access everything as usual through June 30, 2012."