Do your friends call you when the PC is blooey? WebTools can help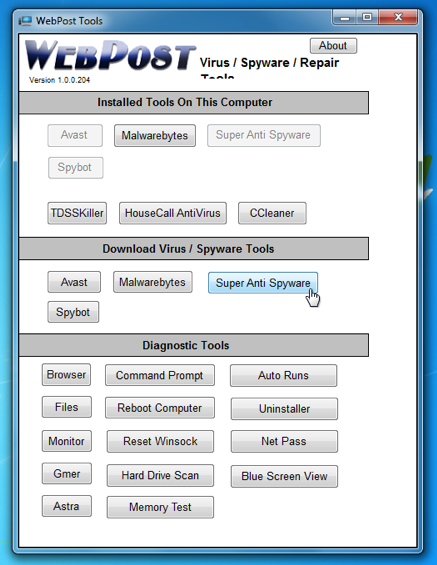 As a knowledgeable PC user, experienced in the ways of Windows, you're probably used to helping out your friends with their various computer issues. You can't rely on them having the security or diagnostics programs you'll need to solve their problems, of course -- so when you're next off on a computer support mission then it could make sense to bring along a portable troubleshooting toolkit of your own. And WebPost Tools is a good place to start.
If you suspect malware infection, for instance, then the program allows you to download avast! Free Antivirus, <!detail id="1186760019">Malwarebytes Anti-Malware, <!detail id="1142662646">SUPERAntiSpyware or <!detail id="1043809773">Spybot-Search&Destroy at a click. Or, if they're installed already, then a series of buttons give you easy access to the program you need.
The antivirus scan hasn't turned up anything? WebPost Tools includes some useful extras that may help you to uncover the problem manually. GMER can detect rootkits and other stealthy malware, for instance, while the Sysinternals tool AutoRuns reveals everything that's configured to load when your PC boots.
You also get a host of tools to help you diagnose more general system problems. Astra32 is a powerful system information tool, for example; BlueScreenView reports on the likely cause of blue screen crashes, while Network Password Recovery reveals network share passwords. And there are smaller tools to uninstall programs, reset Winsock, and scan your RAM or hard drive for errors, amongst other useful features.
None of this is presented particularly well, unfortunately. In fact the user interface looks amateurish in the extreme; variable-sized buttons, not properly aligned, windows resizeable when they shouldn't be, text boxes which are the wrong size, and the list goes on.
In terms of functionality, though, there's a lot of malware-hunting and diagnostic power here. If you need a ready-built portable troubleshooting toolkit in a hurry, or would just like to extend the collection you have already, then WebPost Tools is well worth the download.