Mozilla updates SeaMonkey to v2.1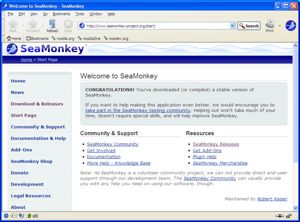 Mozilla has released a major update to its all-in-one application suite, SeaMonkey. Comprising browser, email client, IRC chat client and webpage editor, SeaMonkey 2.1 is major new release, adding support for browser sync, personas (lightweight themes), drag-and-drop downloads and optional search bar.
In addition to this, SeaMonkey also features a reworked bookmarks system, Add-Ons Manager, Data Manager as well as a host of other minor feature and performance improvements, including support for Jump Lists in Windows 7. Support has been extended to 64-bit versions of Mac OS X 10.6 (Snow Leopard), but SeaMonkey no longer supports OS X 10.4 (Tiger) or PowerPC-based Macs.
SeaMonkey 2.1 takes elements from Mozilla's Firefox browser and Thunderbird email manager, and most of the new features can be traced to developments in Firefox. Browser sync keeps browsing history, passwords, bookmarks, preferences and tabs updated across multiple computers and devices running SeaMonkey, just as with Firefox, while the new Add-Ons Manager mirrors that introduced in Firefox 4 and the upcoming Thunderbird 5 (currently in beta), although other aspects of the suite reflect versions 3 of both standalone applications.
The new Data Manager now unifies cookie, permission, password, and form data management across the suite --while it's now possible to delete Flash cookies (LSOs) if Flash 10.3 or later is installed, improving user privacy.
There is also improved support for HTML5, plus a number of bug fixes and enhancements, such as the ability to now save selected messages as individual files in SeaMonkey's email component. SeaMonkey is now more robust, so if an individual plugin crashes it won't bring down the entire suite with it. For those who still encounter problems, Safe mode and Troubleshooting Information options have been added to the Help menu.
SeaMonkey 2.1 is an open-source and free download for Windows, Mac and Linux computers.