Final Cut Pro X is Mac App Store's top seller, but buyer reviews are scathing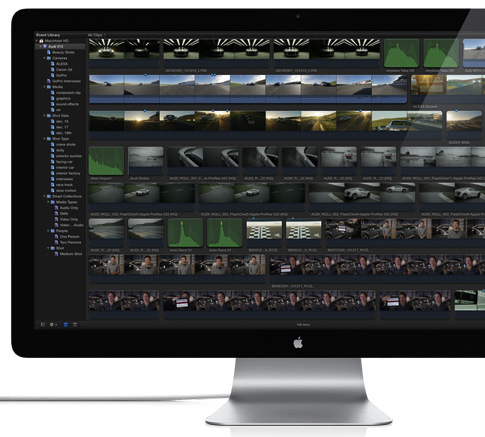 Apple only released the software today, but Final Cut Pro X already is a hit. Perhaps that big price reduction -- to $299.99 -- has something to do with buyers' enthusiasm. Motion 5 and Compressor 4, which also released today for $49.99 a piece, rank second and fourth, respectively. Too bad so many of buyers' give the software a 1-star rating.
But there's more, and it's a wonder anyone else other than Apple is profiting from Mac App Store. Today's introductions put Apple products as the top-7 paid apps. There's an eighth, with iPhoto as No. 9. T-boneapps.com's iSplash, which is on sale today for 80-percent off -- that's 99 cents -- is No. 8, while Angry Birds is tenth.
Apple products command 10 of the top-12 paid ones. Is Apple just a better developer, or is there something of a home field advantage at work?
<!image id=7227 right>Earlier today, I observed that people wanting Final Cut Pro X would need Mac OS X 10.6 Snow Leopard (or Lion when it comes out) to buy and to use the software. Mac App Store is add-on to the one product and built-in to the other. The video-production software is available "exclusively from the Mac App Store", according to Apple -- direct digital download. I contended the distribution method will compel many people wanting Final Cut Pro X but using older OS X version to upgrade.
"It couldn't possibly be that they lowered the price to help drive sales realizing that they would appeal to a much larger audience at $300 vs $1000?" Betanews reader Matt Shulman asks in comments. "Sell 4 copies at $300 vs 1 copy at $1,000 and you're making more money and potentially getting more customers hooked on it. At $1,000, many people wouldn't even bother using a trial version (if it's available) simply because they wouldn't consider spending that much. At $300 though, it's far more likely".
That's sound reasoning, and Final Cut Pro X's top-sales status proves the point.
Still, for a top seller, lots of people aren't loving it. As I write, the average review is 2.5 stars, with the majority of buyers -- 102 out of 220 ratings -- giving Final Cut Pro X one star. Yikes!
Final Cut Pro X buyer Rjjfam shares his experience on the product page in the Mac App Store:
I'm working on a 8 core Mac Pro and have been working with FCP for almost a decade. I was working on a project and got the word that FCP X was available for download. I closed FCP 7 and purchased FCP X downloaded and installed it. The first thing I noticed was an icon to import IMovie Events. Are you serious?? iMovie -- the same program my aunt uses to edit videos of her weddings and kid birthday parties. I'm a professional, editing videos for broadcast television and have never used anything other than FCP!

So I go to open my project in FCP X and it won't open. It turns out that FCP X is not backwards compatible with any previous version of FCP. You can import iMovie Events but not FCP? WOW!!! So now I'm back to FCP 7 to finish up my projects and will revise this review if FCP X turns out to be what me and all of my fellow FCP users expected. But right now I will give it 1 star, because it should be told to perspective buyers that you cant use it with FCP 7 and older projects.
"What a joke! Don't waste your money!" gripes reviewer krnlb, who gives Final Cut Pro X just one star. "It is just iMovie on steroids." Cesar Peynetti: "Should be renamed iMovie Pro."
Kenneth Stillman, who is "incredibly disappointed", also gives the software a single star. He writes:
Forget that it's just confusing right out of the gate. Simple things like editing a multiclip are just a complete mystery to find. I can't figure out how to put in a slug, I need two seconds of black before the video starts. I do a lot of music video and I like to tap out the beat of the song. Forget in FCPX. It doesn't create audio markers in real time the way FCP 7 did. I just want to shoot myself because I wasted $300, and I somehow have to explain this to my wife.
There are supposedly 70 5-star reviews, but they were tough to find. Five-star rater Satyender Mahajan described Final Cut Pro X as an "excellent editor" that is "responsive" with an "elegantly-designed interface". Kell Gallaher calls the software "just awesome".
How about you? Did you buy Final Cut Pro X? How do you like it? Please answer in comments.