Microsoft presents attractive new SkyDrive after Dropbox security blunder

Microsoft this week is upgrading its free consumer cloud storage and collaboration service SkyDrive, making it faster, cleaner, and more competitive with services such as Amazon Cloud Drive, Apple iCloud, and Dropbox.
"While we have always focused on improving the performance of our websites, it was clear that we had reached a point where the kinds of performance gains we were hoping for would not come without an assessment of our entire experience from the ground up," Omar Shahine wrote in the Windows Live Blog yesterday. "SkyDrive has been around since 2007 and was simply not built for the modern web."
Whenever Microsoft mentions the "modern web," it's generally to refer to technologies such as HTML5 and CSS3, which are widely considered the most important new advancements in web technology, and this update to SkyDrive is no exception. It has been rebuilt with HTML5 and Microsoft has removed "anything that slowed the experience down or got in the way of a fast, clean site."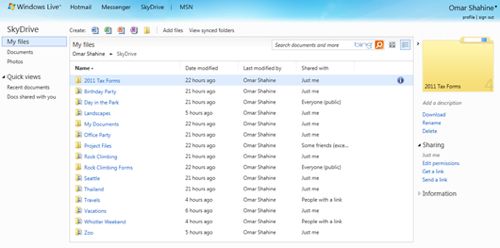 The SkyDrive interface that was introduced in 2008 was too cluttered and confusing for users, and rather than presenting a user's files in a familiar tree system, it started on a high-level summary of activities, and linked out to each related service (photos, office live, live spaces, etc.) The new interface is just like Windows, with a list of folders, when they were last modified and by which user, and who each folder is shared with. This part of the service is also completely free from ads (unless you count the Bing search bar.)
SkyDrive's Photo viewer has also been seriously upgraded, and now includes animations, CSS3 transitions, infinite scrolling without page breaks, and support for playback of H.264 videos thanks to the HTML5 video tag.
SkyDrive also capitalizes on the combined capabilities of Windows 7 and IE9. Users can pin their SkyDrive to the Windows Taskbar, and its Jump List offers instant access to Files, Documents, Photos, and Office Live tasks.
Microsoft has chosen an excellent time to update SkyDrive and make an appeal to Dropbox users. Two days ago, Dropbox admitted it had briefly introduced a bug into its own authentication mechanism that allowed anyone to log into any Dropbox account by simply typing anything in the password field.
"This should never have happened," said Dropbox Co-founder Arash Ferdowsi, "We are scrutinizing our controls and we will be implementing additional safeguards to prevent this from happening again."
Matt Rosoff of Business Insider, a Dropbox user, complained yesterday Microsoft's updates still haven't made SkyDrive any less frustrating to use.