Uh-oh, Google Apps, Office 365 launches in 40 countries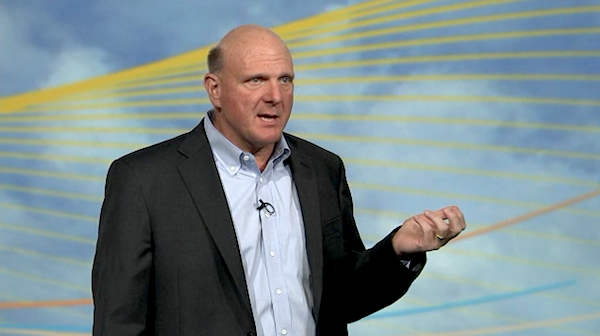 Today, Microsoft made official its most important push into the cloud, ever, with release of Office 365. The software giant took off the beta moniker and released final pricing ahead of a New York launch event with CEO Steve Ballmer.
Office 365 combines Microsoft Office, SharePoint Online, Exchange Online, and Lync Online into a single cloud-based package that is scalable from small businesses to large enterprises, with a per-user license cost depending upon the volume of users. The new service is available immediately in 40 countries.
During today's live event, Ballmer said that Office 365 is "where Microsoft Office meets the cloud". He asked the audience what happens when Office meets the cloud and answered: "Collaboration happens in addition to productivity".
Microsoft started taking applications for the Office 365 private beta in October 2010. The public beta started two months ago.
Subscription pricing starts at $4 per month per user. The $4 per user/per month "K" plan and its $10 companion is for kiosk workers -- "for employees such as 'deskless' workers, shift workers, or retail store employees who use shared PCs".  The $6-per user/per month "P" is aimed at professionals and smaller businesses. There are also four "E" plans ranging from $10-$27 per user/per month, for midsize businesses and enterprises.
With the beta moniker off, people wanting to test Office can choose from a couple of trials: The $6 plan; the $24 plan.
Strategically, Office 365's purpose is three-fold:
1. Competitively respond to Google Apps.
2. Provide customers anytime, anywhere access to their Office documents and tools.
3. Extend Microsoft's legacy applications stack -- Office, Windows and Windows Server -- to the cloud.
Regarding purposes two and three: Microsoft has been trying to keep Office relevant to businesses by integrating more features with server software and thus pushing capabilities beyond core functionality into areas like business intelligence. Meanwhile, Office 365 extends the productivity suite's utility to cloud services, providing customers anywhere, anytime access to their stuff. Related: Hosted online versions of popular server software, like Exchange.
From the perspective of perserving Microsoft's legacy stack and extending customers' existing investments to the cloud, Office 365 is strategically even more important than Azure services. However, there likely wouldn't be an Office 365 if not for Azure or hosted server software versions.
Yesterday, Google's Shan Sinha made the case for Google Apps: "Technology inevitably gets more complicated as it gets older. Upgrading platforms and adding features results in systems that are increasingly difficult to manage and complex to use. At times like these, it's worth considering a clean-slate: an approach based on entirely modern technologies, designed for today's world."
But many companies don't want something new. Starting over is risky business. For companies heavily invested in Office, whether part of their IT systems data and business flow or access to legacy data, Microsoft's hosted app suite allows them to embrace the cloud without giving up what they've got.