Want to pay three times more than Google Apps? Office 365 is for you

When Microsoft's Office group formed in the early 1980s, something was missing from the DNA. Simplicity. Today's Office 365 plans -- seven of them -- are anything but simple. While Microsoft offers a stunning range of hosted apps capabilities, Office 365 pricing, or its feature set, is nowhere as straightforward as Google Apps. Nor as cheap.
Little more than two months after opening the public beta, Microsoft's hosted productivity apps service debuted today in 40 countries. Microsoft CEO Steve Ballmer announced Office 365 during a live New York event late this morning.
Subscription pricing starts at $4 per month per user. The $4 per user/per month "K" plan and its $10 companion is for kiosk workers -- "for employees such as 'deskless' workers, shift workers, or retail store employees who use shared PCs". The $6-per user/per month "P" is aimed at professionals and smaller businesses. There are also four "E" plans ranging from $10-$27 per user/per month, for midsize organizations and enterprises. Please see screenshots below for feature comparisons.
Capabilities and benefits dramatically differ depending on what features businesses are willing to pay for. Google Apps is more one-size fits all, as is its pricing -- $50 per user/per year, or $5 per user/per month with no annual commitment.
The core functionality isn't complex -- document editing. For this feature, larger businesses will pay significantly more for Office 365 than they would for Google Apps. Let's compare plans to see how.
The $6 "P" plan includes basic document editing via Office Web Apps, plus a 25GB inbox, ability to send 35MB file attachments and collaboration and website design using SharePoint, among other features. Is Office Web Apps comparable enough to Google Apps? It's debatable.
Small businesses choosing the "P" plan would pay about $12 more per user/per year than Google Apps, when the latter is purchased as annual subscription. That's $300 per year for a company with 25 users, and it's an amount that should be comparable enough for most operations -- assuming they find Office Web Apps sufficient compared to Google Apps.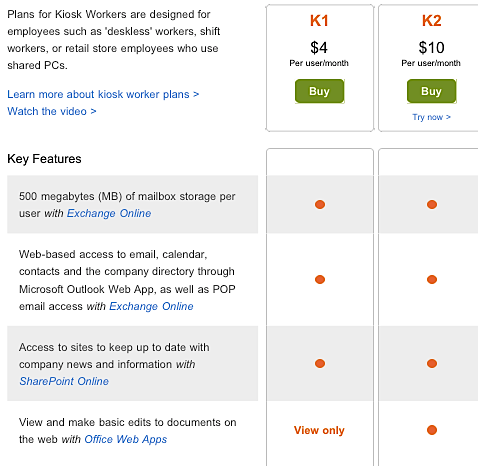 But Microsoft licenses "P" plan for only 50 users. Larger businesses must choose one of the four "E" plans. To get basic online editing capabilities, midsize operations or enterprises must pay $16 per user/per month for Office Web Apps for E2 -- or more than three times as much as Google Apps used on a month-per-month basis.
To get something comparable to, or even better than, Google Docs and what they're accustomed using on the desktop, businesses choose the E3 plan for $24 per user/per month, which includes Office Professional Plus. So for two months usage, the E3 $24 plan costs nearly as much as Google Apps purchased for an entire year -- or nearly five times as much per month for Google Apps purchased without subscription commitment.
Granted, there are collaboration and other features offered by Microsoft that aren't comparable. They're immaterial for a basic cost comparison, however. The service is called Office 365 for a reason. What matters more is the core productivity suite functionality, assuming the business really wants to provide full apps editing and viewing anytime, anywhere and on anything.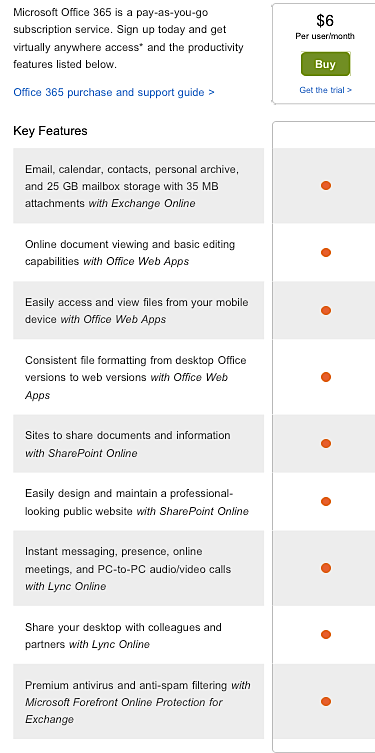 Office 365 offers Savings for Some
However, Microsoft's pricing scheme may be more about what its customers already pay than what they might hypothetically pay Google. For example, Microsoft's Professional Desktop Platform is popular among larger businesses purchasing through Enterprise Agreements. The Pro Desktop Platform, which includes Windows upgrade (to Windows 7 Enterprise), Office Pro PlusCore CAL Suite (with client-access licenses for Windows, Exchange, and SharePoint servers) and a client management license for System Center Configuration Manager, costs between $300 and $375 a year, depending on volume. By comparison, E3 costs $288 a year, for which the customers receive the same capabilities and more in the cloud, without the headache and cost of managing hardware and software infrastructure.
Paul DeGroot, principal consultant with Pica Communications, does finer crunching of the numbers: "E3 is equivalent to two components in an EA, Office Pro Plus and the Enterprise CAL Suite". He compared price paid for 250 to 2,399 desktops and for more than 15,000.
He explains: "So, in a new EA here are the annual price ranges: Office Pro Plus: $180-$268; Enterprise CAL Suite: $141-$213. Combining then, we get a low of $321, or $26.75 a month, and a high of $481, or $40.08 a month".
"Overall, this looks like fairly attractive pricing," DeGroot says.
That comparison reveals something important: Microsoft is more concerned with existing customers than competition from Google Apps. Google product managers might want to think long and hard about that one. Microsoft's higher pricing treats Google Apps like an annoying fly to be swatted.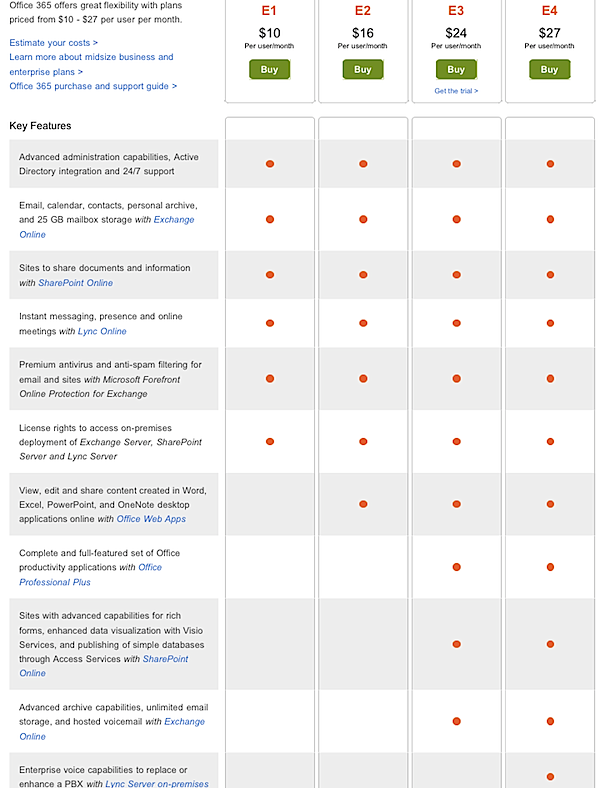 As I've stated previously, strategically, Office 365's purpose is three-fold:
1. Competitively respond to Google Apps.
2. Provide customers anytime, anywhere access to their Office documents and tools.
3. Extend Microsoft's legacy applications stack -- Office, Windows and Windows Server -- to the cloud.
Microsoft's pricing presumes that many businesses would rather stick with what they know and have built their infrastructure around than make a radical shift to something new.
Hosted apps are also a surer revenue stream for Microsoft, even if it collects less per user. Benefits from collaboration and anytime, anywhere, on-anything access are main reasons. But in the end, reduced infrastructure costs may matter more to customers. Then there is Microsoft keeping them on the newest hosted versions of its software rather than running multiple versions of Office, Exchange and the like on local servers. The latter benefit is more likely to keep customers satisfied and willing to pay up to stick with Microsoft.
So, yes, Google Apps costs much less than Office 365 to get truly comparable online productivity suite editing capabilities. But many businesses won't take the risk. Office 365 is safer bet, and many businesses will find it cheaper enough. That said, for the somewhat courageous, there is option of using Microsoft's productivity suite on the desktop and Google Apps in the cloud via Google Cloud Connect for Microsoft Office.
"With Office 365 you save on server hardware, which Microsoft supplies, and the biggest cost of all, the salaries of IT people to keep the servers running." DeGroot emphasizes. "That's assuming that you can realistic pare this cost -- large organizations may be able to get a proportionate reduction, but smaller organizations may not be able to cut staffing below a certain level."
Update 2:10 p.m. EDT: Analyst comments added.