Cisco equips the Chinese police state

Chinese authorities in the southwest city of Chongqing are working with a group of Western companies, including Cisco Systems, to build a surveillance network of as many as 500,000 cameras over an area of 400 square miles, Wall Street Journal reports today.
What comes to mind at first is the use of such a network, including servers and software for the police to monitor them, to control political dissent. But surveillance systems can be used for legitimate purposes as well, even by police. Some are used for traffic control and monitoring, some for crime fighting and prevention.
For these legitimate uses Cisco sells a variety of cameras, networking equipment and software to organize and store the video. For instance, Cisco Video Surveillance Operations Manager is a central management product for video from across an enterprise. Below is a Cisco diagram describing generational technology developments in video surveillance.
The deal with China is not yet done, although it's reported to be close. Other companies involved are HP and Intergraph. It's not clear exactly what each company is bidding for, but HP may only be selling servers. Intergraph says it made a bid through Cisco to provide customized software for the project.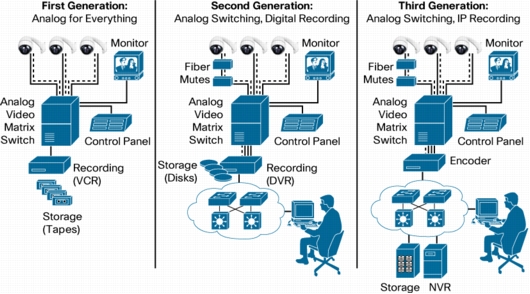 A system such as this is obviously dual-use; it can and probably will be used both for traffic control and dissident control. It could be used, for example, to track the movements of specific individuals without having to physically tail them, a difficult prospect in a crowded city.
This is why many crime-control products, such as fingerprinting systems, have been prohibited export items to China from the United States since the 1989 Tiananmen Square crackdown. The restrictions do not include items like cameras and surveillance infrastructure that have other, legitimate uses.
Human rights groups and members of congress are quoted in the story as expressing concern, and the companies say they are concerned as well. The companies involved insist that the systems are not customized in anyway for crime control.
Is this a tough question? Even if there is no hard evidence, it's hard to imagine that the Chinese authorities would not use the system to reinforce political control. In that sense, traffic monitoring is a fig leaf for Cisco and the others to let them pretend their hands are clean. What will they say when reports come back detailing the abuses to which the system is put?

Larry Seltzer is a freelance writer and consultant, dealing mostly with security matters. He has written recently for Infoworld, eWEEK, Dr. Dobb's Journal, and is a Contributing Editor at PC Magazine and author of their Security Watch blog. He has also written for Symantec Authentication (formerly VeriSign) and Lumension's Intelligent Whitelisting site.