iPhone users waste twice as much time playing games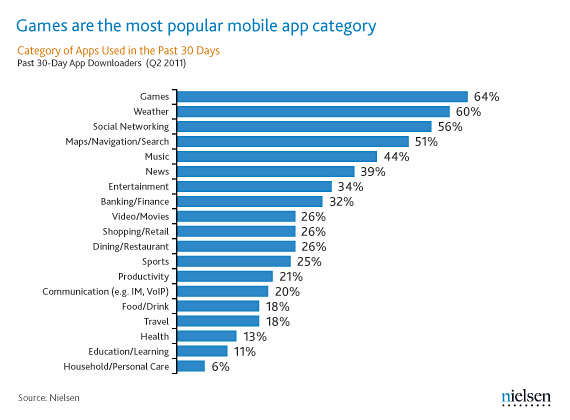 Gee, and I thought they were hunched over texting like the rest of us.
Nielsen has a hot, mobile gaming study out today that reveals gaming apps as being the most popular category. Sixty-four percent of people downloading mobile apps got a game in the previous 30 days. But the second-place finisher is a hoot -- weather apps (60 percent).
Ninety-three percent of phone users downloading apps pay for games, says Nielsen. Those who pay, play. The average downloader plays 7.8 hours on his or her phone per month. By comparison, iPhone users play 14.7 hours per month -- yeah, nearly twice as much.
Windows Phone 7 users are below average. But, hey, that's OK. They only spent 4.7 hours average gaming during the previous 30 days. Since corporations are Microsoft's core market, it's refreshing to see that someone is actually working rather than goofing off.
Then again, with gaming being so hot on mobiles, consumers showing such willingness to pay for the apps and Microsoft selling beaucoup Xbox consoles, these numbers need to be higher. Microsoft is looking to leverage Xbox and Xbox Live integration when Windows Phone "Mango" releases later this year.
<!image id=7379 center>
However, maybe Microsoft can claim marketing victory here. Behind Windows Phone 7 is the "glance-and-go" app development and customer usage philosophy and promotion. Perhaps it's really working, and more Windows Phone 7 users glance and go from the phone to actually living (which for Microsoft's benefit hopefully includes lots of Xbox gameplay).
<!image id=7380 center>
That said, Windows Phone 7 users are slightly more likely to download games than iPhoners -- 70 percent to 69 percent. Considering that iPhone launched App Store two years ago and has a couple hundred thousand more choices than Microsoft's mobile store and that Windows Phone 7 handsets only went on sale about 18 months ago, that 70 percent number is even bigger. It really shows what Microsoft has been able to leverage from Xbox and how much more could be possible come Mango's release.
<!image id=7381 center>