EA acquires Plants vs. Zombies, Bejeweled maker PopCap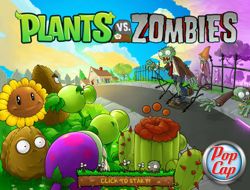 Electronic Arts on Tuesday announced it will acquire PopCap Games for $650 million in cash and $100 million in EA stock. PopCap is known for creating some of the most popular mobile and browser-based video games of the last few years, including Plants vs. Zombies and Bejeweled, and the company is squarely focused on the strongest growth areas of the video game industry.
There's no doubt that mobile and Web-based video games have the potential to be hugely profitable for game studios. With advertisement and in-game purchases, each game title can have multiple recurring revenue streams in addition to the upfront purchase price.
While EA has traditionally been a power player in PC- and console-based gaming with a special focus on sports games, the company's mobile presence has been neither innovative nor particularly strong. The company first began its move to <!article id="1182268406">cut the cost of developing games in 2007 by initiating a few business unit shifts. These culminated in <!article id="1225404415">several rounds of layoffs followed by <!article id="1228928226">a depressed financial outlook and a reduced product portfolio.
EA's mobile presence was not exactly weak, and its Need for Speed, Sims, and FIFA titles have been pack-ins on important Android devices like the Samsung Galaxy S series and the recent "PlayStation Phone" <!article id="1297650553">Sony Ericsson Xperia Play. However, the company's portfolio didn't break much new ground and instead concentrated on <!external href="https://market.android.com/developer?pub=Electronic+Arts+Inc.">sequels of already proven titles.
The company did the same for browser-based gaming, releasing free-to-play versions of many of its popular titles, like Madden Superstars, <!external href="1200945409">Battlefield Heroes, and Dragon Age Legends. Its only casual browser-based games came from Facebook game developer Playfish.
Though PopCap's catalog of titles <!external href="http://www.popcap.com/allgames.php?p=online">is relatively small, they are each highly popular and available across dozens of platforms. According to EA's estimate, more than 150 million PopCap games have been installed across these platforms.