Latecomer Sony inches closer to fall delivery of its own tablets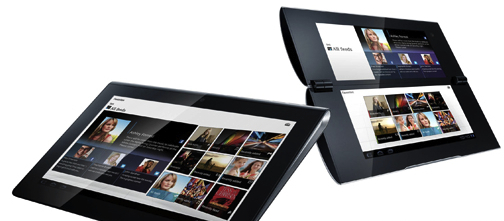 Better late than never, as they say.
Despite being one of the last big electronics players to hit the market with a tablet, Sony underscored it's no less serious about one of the hottest tech segments with a pair of concrete announcements about the two tablets Sony intends to deliver sometime this fall.
And in a briefing to select journalists in San Francisco today the company also says it'll offer a hands-on look at prototypes of both models.
One, codenamed the Sony Tablet S1, sports a form factor similar to most others on the market, but, with its second, codenamed the Sony Tablet S2, the electronics giant is trying to separate itself from its earlier-to-market rivals with a portable clamshell design that features a 5.5-inch display on each half.
The briefing will be held by Phil Molyneux, Sony's Electronics president and COO, and Kunimasa Suzuki, head of Tokyo-based Sony Corp.'s PC, Mobile, and Consumer Products Group. I'll be there to cover it.
In the most significant announcement of the day, Sony said AT&T will be the exclusive US broadband provider of the S2, a 4G capable device running Android 3.0. Neither company disclosed pricing or availability.
In the second, Sony took a shot at the segment leading iPad by saying it'll team up with Adobe Systems to stake a developer's contest with $200,000 in cash prices, an effort to spur development of differentiating applications. In one of Silicon Valley's most wagged about feuds, Apple's Steve Jobs has refused to use Adobe Flash on its iPads.
Sony announced the two tablets last April. Today's releases marked the first important developments in its march to the market since then.
Questions remain whether Sony, long one of the world's premier electronics maker -- until being eclipsed by Apple -- can hit the market with tablets substantially better or different enough to overcome big leads by, most notably, Apple's iPaid and Samsung's Galaxy Tab line.
More to come after today's briefing.
<!image id=6437 left>Patrick Houston is a tech veteran, having worked as an editorial director, VP, and top editor for NetShelter Technology Media, Yahoo!, CNET, and ZDNet. He can be reached at [email protected].