Sony provides 'peek' at new tablets, and not much else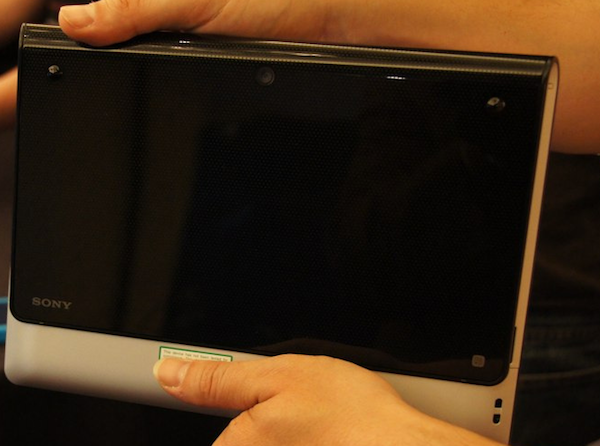 During dual briefings in New York and San Francisco, Sony provided a "sneak peek" -- and not much else -- of the two new tablets it plans to launch later this year, emphasizing the handful of ways it's attempting to differentiate its tablets from those that have already hit the market.
Speaking to a gathering of about 15 journalists that included me, Kunimasa Suzuki, a highly placed exec from Sony's Tokyo headquarters who sits at or near the helm of several company units that are working together on the tablets, emphasized four ways the company is trying to make the two tablets, code-named the S1 and S2, are "uniquely Sony":
Hardware. The WiFi-only S1 has a wedge-shaped design -- like a magazine with the cover folded back -- that gives it a center of gravity that makes it, Sony says, easier to hold.  The S2, which will be available exclusively through AT&T as a 4G device, is a dual screen clamshell. Suzuki says Sony came up with the design based on customer feedback that called for a rich browsing experience but in a more portable device that could fit into a suit jacket pocket or purse.
<!image id=7455 center>
Performance. Sony says both tablets will come with Sony-made innovations.  The first, called Quick View, is a software-only enhancement that renders Web pages more quickly.  The second, called Quick Touch Panel, makes the screen smoother and more responsive to touch commands.
<!image id=7456 center>
Network Entertainment. Sony is bringing its full complement of movies, music, ebooks and games to the tablets. It showed off the S2 running a Playstation game with the controls on one screen and the game display on another. The tablets are Playstation certified, meaning that they'll run a complement of PS titles.
<!image id=7457 center>
Cross-device connectivity. Sony is touting a new feature called "throw" that allows transfer of music, movies, or photos wirelessly onto any DNLA-enabled devices in your network.
Sony deferred any questions about specs or pricing, saying it would disclose those details at launch.  Suzuki did hint, however, that Sony may be positioning its tablets much as it positions its VAIO laptops -- as premium products.
Photo Credits: Patrick Houston
<!image id=6437 left>Patrick Houston is a tech veteran, having worked as an editorial director, VP, and top editor for NetShelter Technology Media, Yahoo!, CNET, and ZDNet. He can be reached at [email protected].