Can Sony sell a tablet you'd really want to buy? [poll]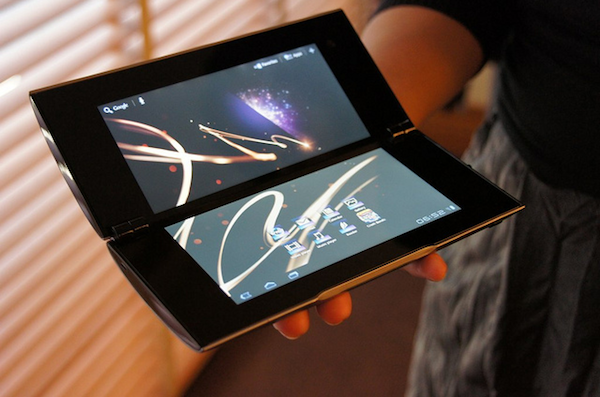 When Sony provided a select group of journalists and bloggers a sneak peek at the two new tablets planned to launch later this year, it also offered a glimpse into its strategy for separating itself from the growing pack of iPad rivals.
Along the way, Sony also gave us a gander at something else: The huge risk it's taking in coming to market with something so different, perhaps even too different, for you to buy.
I have my doubts especially about the device codenamed Sony Tablet S2, a dual-screen, 4G, clamshell that will sell exclusively through AT&T. Sony may call it a tablet.  We may call it a tablet. But it looks nothing like the tablet, not a paper tablet and not like anything tablet from Apple, Samsung, Motorola, RIM, Toshiba or others too numerous to name.
But I'm not the target market.  you are. Please answer the poll below to express your interest in the S2.
There's no overlooking that Sony is late to a segment too big for the company to forego. By its own account, the market could account for 55 million units next year. There's nothing intrinsically wrong with being a follower.  After all, Apple iPhone wasn't anywhere near the first smartphone to hit the market, but that didn't stop it from becoming the segment's standard bearer.
By their own admission, Sony insiders have said that being a follower has left the company with no option: From the get-go, Sony knew it had to come to market with something that'll standout from the growing crowd -- and so it has, especially with the S2.
Sony hasn't gone totally rad on us. It's also launching the Sony Tablet S1, a tablet that looks like a tablet -- with one interesting (note I didn't say revolutionary) twist: It's shaped like a wedge, a design, Sony says, that changes the center of gravity in a way that makes it easier to hold in one hand.
But the S1 will sport WiFi only. The S2 will have WiFi and broadband connectivity that, along with the AT&T exclusivity, makes it appear to be device on which Sony is pinning its biggest bet for taking its own rightful place in a segment that's surely changing the way consumers -- and businesses, for that matter -- are doing their digital thing.
The Wrong Answer?
So what inspired the company to make this particular S2 form factor as the hallmark for a device it wants to be "uniquely Sony" in its own words?
After the meeting, I sidled up to Kunimasa Suzuki, an exec from Sony Corp.'s Tokyo headquarters, who's leading the company's push into tablets, and asked: "What insights into the market led Sony to create the S2 clamshell?"
The answer I received surprised me at first -- and then it didn't.
I expected Suzuki, or other Sony managers with him, to start rattling off a litany of justifications based on the kind of deep consumer research big companies typically do as a prerequisite to developing a product these days. Indeed, I've attended analyst briefings where execs emphasized just how much Sony has started relying on consumer research as a prerequisite to product development. I vividly recall hearing Sony execs recite chapter and verse of what consumers wanted in an ereader, for example, and in rank order of importance.
Instead, Suzuki told me the S2 clamshell resulted from the inspiration of its engineers. What? You didn't ask consumers if they want a little tablet, with two screens, that folded up? You didn't ask how important that kind of size and portability really is to them?
But then again, Suzuki's response hearkens back to the old Sony and one of its most cherished company values -- a cornerstone belief propagated by the company's legendary founders, Masuro Ibuka and Akio Morita, who stressed sheer engineering inventiveness over profits, let alone market research. In fact, Sony made a much ballyhooed return to those values in the early 2000s when it launched its Qualia line of ultra-premium products, which the company also held out as a witness and incentive to the soaring engineering creativity.
Engineers vs. Consumers
The Qualia line, however, came to naught.  Once sold in its own branded Tiffany-like boutique stores in Japan and the United States, the company discontinued its Qualia brand in 2006, and, we thought, its cherished notion that engineers could figure out what consumers want before consumers knew themselves.
Engineering inspiration served Sony so well for so long. But there was clearly a corporate awareness -- at least in its Sony Electronics of America unit -- that the company could no longer depend as much on the art of engineering, not in a new world order that become ever more packed with competitors such as Apple, Hewlett Packard, Research in Motion, Motorola and others that are no longer computer or cellphone makers but consumer electronics manufacturers too.
That being said, no one can be too quick to label Sony a loser in tablets. Aside from the wedge shape of the S1 and the dual-screen clamshell of the S2, Sony also offered a look at a few other new bells and whistles. Both tablets will arrive with Sony sofware innovations that make Web pages load faster and the screen more responsive to touch commands.
And Sony has something else that companies like Samsung, RIM, Motorola and HP don't -- a sprawling library of music, movies, books, and, perhaps most of all, Playstation games, many of which will work on its tablets.
For now, though, Sony hasn't knocked my socks off with the S1 or S2.  But what do I know? I'll repeat what every pundit or analyst should: A market I alone do not make.
You do, though. Will the dual-screen, clamshell S2 set a new standard for portable computing-communicating devices?  Or will it go down as, well, nice try, Sony, but no thanks? Give Sony some of the consumer research it apparently lacked in creating its new tablets. Tell them what you think in comments, and, please, answer the poll above.
Photo Credits: Patrick Houston
<!image id=6437 left>Patrick Houston is a tech veteran, having worked as an editorial director, VP, and top editor for NetShelter Technology Media, Yahoo!, CNET, and ZDNet. He can be reached at Patrick@patrickhouston.net.