Credit card companies join mobile networks in pay-by-phone NFC venture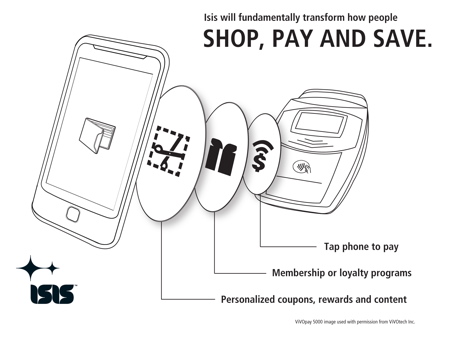 AT&T, Verizon Wireless and T-Mobile USA <!article id="1289923869">announced late last year that they would be partnering in a joint venture called Isis, which would build a unified network for NFC mobile payments. On Tuesday, the joint venture announced that it has secured its payment partners, Visa, MasterCard, Discover, and American Express.
Each of the payment companies participating in Isis has been very active in the contactless and NFC-based payment fields for more than five years, so their participation in Isis seems only natural.
Visa and MasterCard in particular have been making strides recently and are both expected to launch new products soon. <!article id="1306184284">Visa's PayWave NFC pay-by-phone system is expected to debut this fall, and MasterCard is reportedly <!article id="1301344548">working with Citigroup and Google on an Android-specific NFC payment solution.
American Express, <!external href="https://www295.americanexpress.com/cards/loyalty.do?page=expresspay">no stranger to contactless payment systems either, launched a person-to-person payment system called Serve <!article id="1301331405">in late March which doesn't utilize NFC yet, but still directly targets smartphone users as its core audience.
In an investor meeting recently, Discover Financial Services Chairman and CEO David Nelms said his company has issued over 500,000 RFID-based contactless chips in its <!external href="http://www.discovercard.com/customer-service/account/zip/">Discover Zip program, where users are given a contactless payment sticker they can affix to an object they commonly carry around, like a mobile phone.
"Discover has been working with Isis from the start to facilitate mobile commerce, which will provide added convenience and benefits to consumers while delivering increased loyalty and sales to merchants," Nelms said in a statement today. "Isis' open strategy is the right approach to establishing a highly secure environment for mobile commerce that will be achieved through the participation of banks and payment networks like Discover."
As the companies from Isis announced earlier this year, the first two markets that will have Isis payment terminals will be Salt Lake City, Utah and Austin, Texas in the first half of 2012.