FDA to regulate medical smartphone, tablet apps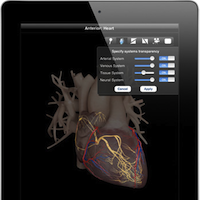 The United States Food and Drug Administration (FDA) on Tuesday announced it is looking to the public for input about the regulation of mobile health and medicine apps for smartphones, tablets, and mobile computers.
By 2015, the organization expects 500 million smartphone users will count on some kind of health care application on their device, be it to measure and regulate caloric intake, to monitor heart conditions, or to do any number of things.
So the FDA seeks to create some concrete policies for companies that produce these type of apps that will be a little more clear than its Draft Software Policy of 1989, which sought to regulate PC-based medical software but was ultimately withdrawn due to the unique and complex relationships between medical data, medical software and related hardware.
"As is the case with traditional medical devices, mobile medical apps can pose potential risks to public health," the FDA's <!external href="http://www.fda.gov/MedicalDevices/DeviceRegulationandGuidance/GuidanceDocuments/ucm263280.htm#5">draft guidance for mobile medical applications says. "Moreover, mobile medical apps may pose additional or different risks due to the unique characteristics of the platform. For example, the interpretation of radiological images on a mobile device could be adversely affected by the smaller screen size, lower contrast ratio, and uncontrolled ambient light of the mobile platform; FDA intends to take these limitations into account in assessing the appropriate regulatory oversight for these products."
The FDA outlines three types of apps that it feels require regulatory oversight:
1.) Apps that connect to or extend the functionality of other medical equipment
2.) Apps that support external medical peripherals (like blood sugar monitors, heart rate monitors, etc)
3.) Apps that diagnose problems, suggest treatment, or make clinical decisions based on user-supplied data.
Once the FDA confirms its regulations, medical app makers will have to seek FDA approval as if their apps were mobile medical devices of their own.
What the FDA isn't as clear about is how to regulate the apps that turn mobile devices into accessories or extensions of bigger medical equipment, so it's seeking comment on how it should approach regulation of these types of apps, and also whether it needs to more clearly define the types of apps that interpret user-supplied medical data.
Comments can be submitted either online or by mail for the next 90 days at <!external href="http://www.regulations.gov">www.regulations.gov.