Roku debuts sexier, more gamer-friendly Apple TV killer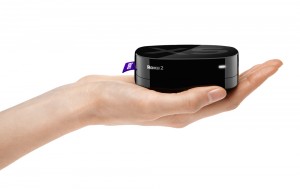 Roku, the company who sold more than a million of its tiny eponymous streaming set top boxes <!article id="1301460559">without any physical retail presence has announced three new models of Roku 2, even smaller and more feature-packed devices at the same $59-$99 price points.
Three models of the Roku 2 are broken up in the same way <!article id="1285206351">last year's batch was. This time, it's the Roku 2 HD, which costs $59, has Bluetooth, and plays back resolutions up to 720p; The Roku 2 XD, which costs $79, also features Bluetooth connectivity, but supports up to 1080p. And the flagship device, Roku 2 XS which costs $99, has Ethernet and USB inputs, and comes standard with the new Roku motion remote, which is no doubt the killer feature of this upgrade.
<!image id=7523 center>
The new remote is very similar to the Wii controller and can be used as a gamepad for the new games expected to land on Roku in the coming months.
"Between now and Christmas you'll see the games selection on Roku grow dramatically," the Roku Blog said today. "My goal is to grow Roku into a major low cost family oriented gaming platform. And they'll be in the $5 range rather than $30 range. Just like Netflix is shaking up the video world, and Pandora is shaking up radio, Angry Birds and their friends are shaking up the gaming establishment. We're trying to help as best we can."
<!image id=7525 center>
Roku 2 will also launch with some new content channels in the Roku Channel Store, including AOL HD, Facebook, Major League Soccer, a Live streaming FoxNews.com, and finally an official YouTube channel.