I'll tell you something about Windows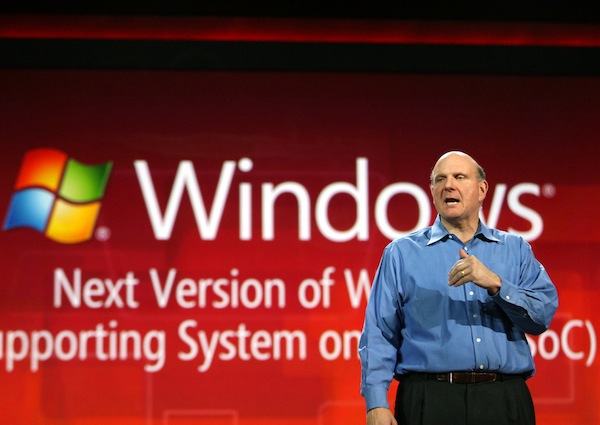 Microsoft must move beyond Windows, as clearly seen in fiscal 2011 fourth quarterly and yearly results, announced late yesterday. The operating system remains a pillar of the company's revenue stream and will long be the identifying brand. But its relevance is diminishing, in developed markets for now. Emerging markets will come much later.
For the third quarter in a row, sluggish PC shipments diminished Windows & Windows Live revenues -- and there is little sign anything will change anytime soon. Revenues fell by 1 percent and operating income by 4 percent during fiscal fourth quarter. Global PC shipments grew by 2.3 percent, according to Gartner, and 2.6 percent, according to IDC. US PC shipments were disastrous, falling 5.6 percent year over year, according to Gartner, and declining 4.2 percent by IDC's reckoning. Microsoft estimates global PC shipments grew by 1 percent to 3 percent. Windows actually underperformed, by comparison, with OEM revenues declining by 1 percent for the quarter and growing by a tepid 2 percent for fiscal 2011. OEM sales accounted for three-quarters of Windows revenue during fiscal Q4.
Microsoft already got its big Windows 7 sales bang -- 400 million licenses sold since the operating system shipped nearly two years ago. The global install base of PCs is around 1 billion. The majority of licenses are going to emerging markets. Microsoft estimates that they totaled 40 million PC shipments for the quarter or -- get this -- half of global volume. It's simply a stunning number that represents faster recovering economies in many emerging markets and new sales. The majority of Windows sold in developed markets are resales -- to existing customers.
Microsoft is still getting some bang from businesses. During yesterday's earnings conference call, Bill Koefoed, general manager of Microsoft Investor Relations, said that "business PC refresh cycle continued and drove estimated business PC growth of 8 percent".
Those business deployments won't last forever, however. The reality is this: If not for Windows Vista's market failure, successor 7's sales situation might be a whole lot worse today. Windows 7 released with about 80 percent of the install base on XP. Upgrades were inevitable in developed markets. Whenever Windows 8 ships, much of the established install base will be on 7 or moving that way. Enterprises don't deploy overnight. For now, Koefoed says that "90 percent of enterprises have committed to a deployment plan" and one-quarter of their desktops have Windows 7.
Windows 7's lifeblood is two-fold, then: Pent-up demand from businesses still using Windows XP and sales to emerging markets. It's not a sustainable growth business, although legacy sales should keep the Windows & Windows Live division profitable for some time.
Microsoft's Business Division long ago passed Windows as the big revenue and profit generator, $5.78 billion and $3.6, respectively, in fiscal Q4. Windows & Windows Live generated $4.7 billion in revenue and $2.9 billion in profit. Actually, Server and Tools division nearly generated as much revenue as Windows & Windows Live -- $4.6 billion. It's a sign of Windows changing times.
Windows is still a hugely profitable business for Microsoft, but its future remains in doubt because:
Sales growth has shifted to emerging markets, where piracy rates typically are 70 percent or more
Businesses in developed markets are likely to standardize on Windows 7 and stick with it for at least four years
Consumers in emerging and developed markets are shifting computing spending to mobile devices like smartphones and tablets
Cloud computing services like Office 365 will enable businesses and consumers to access their stuff anytime, anywhere and on anything
Microsoft may not be talking concretely about a future beyond Windows, but the company is clearly preparing for one -- or at least a different one. Hence, the emphasis on ARM processors, which will make Windows available on more devices than PCs. Also talk about a future unified platform around Xbox.
Then there is most importantly business productivity and business processes leveraged off Office and the Windows Server stack and hosted applications like Office 365 that make information available anytime, anywhere and on anything.
The future of Windows is a utility supporting applications and services that obscure the operating system. The OS will matter less than the stuff wrapped around it. Like Xbox today. When do you hear Microsoft talk about Xbox OS? That's eventually the future of Windows as the platform transforms and applications, server software and hosted services matter more.