Need better Windows file management? Try xplorer2 2.0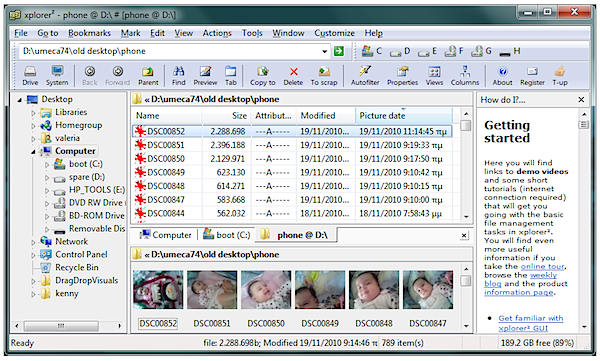 London-based ZABKAT Software has released version 2.0 of its Windows Explorer replacement tool. xplorer2 2.0 includes a number of notable new features and improvements, including support for dockable and floating panes.
xplorer2, which costs $29.95 and is also available as a 64-bit build, also utilizes the native preview handlers found in Vista and Windows 7 to deliver improved document previews, notably with PDF and Office files. Also new in version 2.0 are dual bookmarks, tab locking, context menu extensions and faster file browser operations.
xplorer2's most visible new feature is the addition of dockable panes, each of which can be moved by dragging its title bar to one of the four corners of the main program window. Hold [Ctrl] as you drag and it'll detach from the main program window, allowing you to float it on-screen.
Another visible change is the addition of a large toolbar and drive-bar icons, while accessing the native preview handlers in Vista and Windows 7 is done by selecting the Native preview tab from the View > Quick Viewer menu. Previews are read-only, meaning the file itself isn't locked allowing users to manage the file, such as by renaming it, without file-access errors.
Version 2.0 also adds dual-bookmarks, allowing users to create two holding folders, which are managed from the Boomarks > Dual menu. Tabs can now be locked by right-clicking -- any browsing within the tab will open a new tab, ensuring the original is left untouched.
The shell context menu now contains a customizable xplorer folder that can house any menu command required -- set this up via the Organize menu. Rounding off the major changes is the fact that network folders are now enumerated quicker, while external devices are also handled better to speed up file browsing and ??" where applicable -- file previews via thumbnail.
The new release also introduces a new key unlock system, which means anyone with a qualifying licence for a free update won't be able to use their existing key to unlock version 2.0. If you find yourself in this boat, full instructions are provided for obtaining a free replacement key that will work with the new release.
xplorer2 2.0, which is the first major new release of the program since version 1.0 was released in June 2004, is available as a free 21-day trial download in 32-bit and 64-bit builds for all flavours of Windows from 95 and NT through to XP, Server, Vista and Windows 7. A free cut-down version, xplorer2 Lite(currently at version 1.8), is also available.